I started to think about what to do with the Bubble if State lost to Duke. So this is what I came up with even though it is a moot point now.
I started by taking the NET Top 80 and deleting those teams that weren't four games over 0.500
Then I went down the team sheets of each team and made a judgement call about that team's resume vs State's
Bad losses were only those in Q3/Q4
Q2 and SOS's were only used as a tie breaker
I created a third division and called it "Close" to cover those cases where I could see reasonable, intelligent people disagree on what things were most important. In the "Close" category, I added a "push" category but only one team ended up there.
Team sheets can be found here:
https://extra.ncaa.org/solutions/rpi/Stats%20Library/NET%20Team%20Sheets%20-%20March%2011,%202020.pdf
So here's the list of teams that I judged to be in better shape than State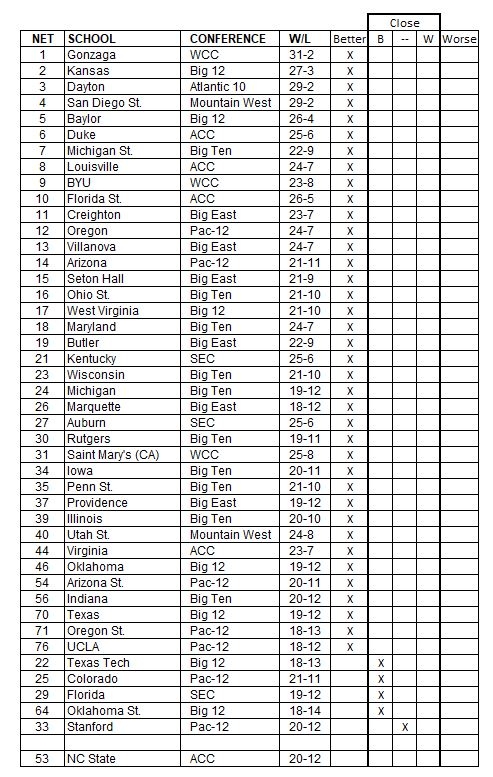 That's 43 teams from 9 conferences that have a stronger or equivalent resume than State's. So if we assume that the auto-bids for the nine conferences also had better resumes than State, then 34 of the 36 at-large bids are taken.
For completeness, here are the resumes that I judged to be inferior to State's (including all of the AAC and A-10 except for Dayton).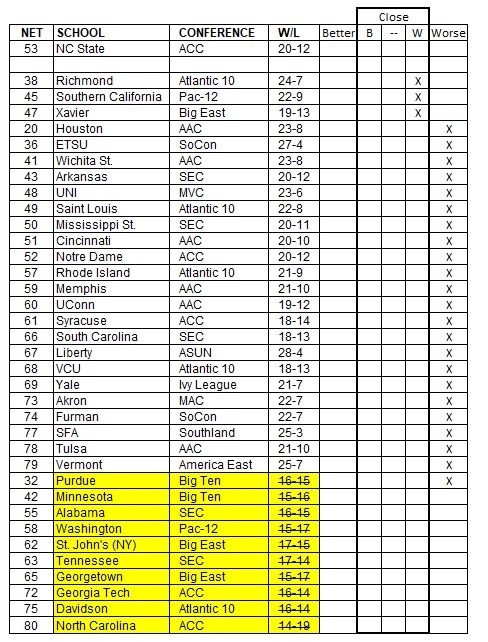 If I were doing this for Selection Sunday, I would have merged the Bracket Matrix seeds as well. But since this was more or less a useless exercise, there was no reason to take longer than necessary.
My conclusion was that State would have ended up somewhere between the Last Four IN and the First Four Out without a win over Duke,