If you take a US map and draw a line from below Richmond to below Chicago, then there is not much to the NE of that line that I ever wish to see again. Thus something has gone horribly wrong with the master plan, because that's where I find myself for work. So I don't have as much time as I would like, but I did scratch out enough time to do the various sorts for you all to provide most of the discussion.
DISCARDS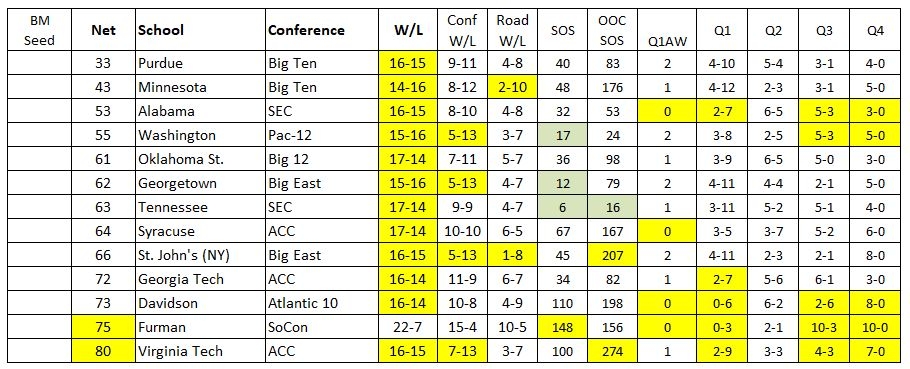 There are several teams here who could go 2-1 in their conference tourney and move themselves out of the automatic discard pile....but it doesn't look like anyone thinks very much of these teams.
AUTO BIDS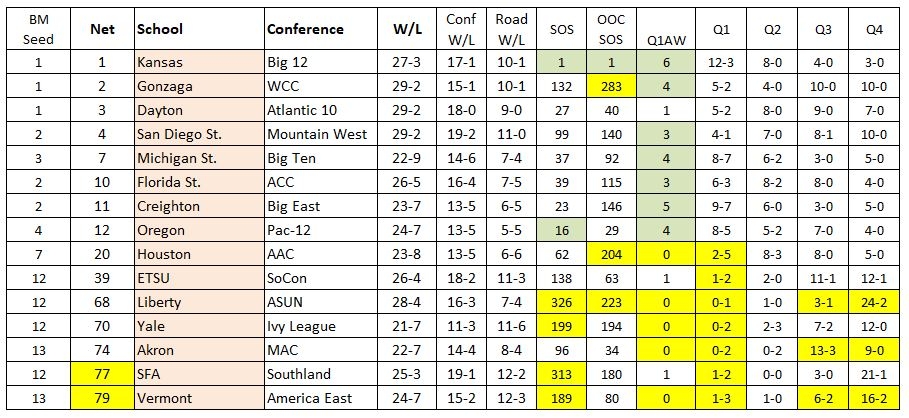 I tried to highlight the teams that finished first or tied for first in the regular season. We've already been discussing the American, but there could be other bid stealers highlighted below.....N. Iowa for example.
2+ Q1A WINS
Sorted by NET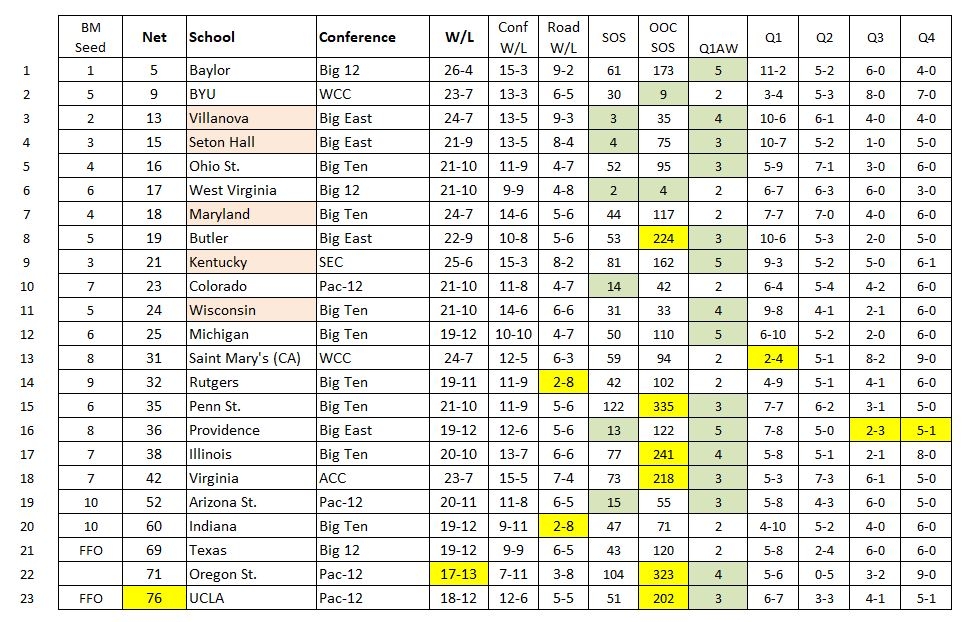 UCLA and Texas have a new friend at the bottom of this table....Oregon St. I don't have time to go back and look, but I would guess that Ore St has finished on a little winning streak to get to the magical four games over 0.500. Personally, I'm pulling for Ore St to go 1-1 in the Pac 12 conference so that I can see how the Selection Committee treats a team with a poor OOC schedule but some big wins.
Most of these are uncontroversial, but the bottom three might give some insight into how the Selection Committee evaluates teams with plenty of big wins, but enough losses to tank their NET ranking.
THE TOUGH CHOICES

Sorted by Q1A wins, then by Q1 wins, then by NET: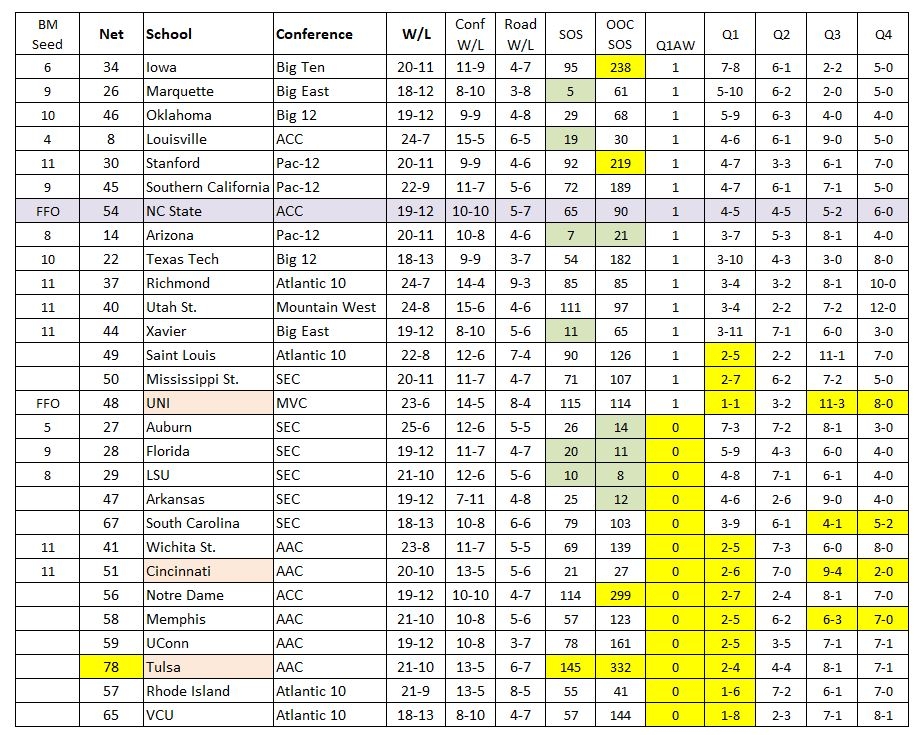 Had to edit the following at 3:30pm on Monday. Sorry.
Utah St should not be in this table and San Diego St should be in the 2+ Q1A table. Thus we only have 12-15 bids left for this last table.
If you go back to this entry
, you will see that the bar for an at-large bid is set very low for those teams that finished at least tied for their regular season championship. Tulsa's rank is lower than any at-large bid has ever had, so we obviously want them to get stomped as quickly as possible in their tourney (along with Wich St). I assume that N. Iowa and Cincy will get an at-large bid even though I don't think that they've earned it.
Now we are down to 10-13 bids left.
If you sort by Q1 wins first and then by Q1A wins, State would drop about five places. But I'm going to assume that Q1A wins are much more important when slicing through the last few bids. While it's certainly possible for a few teams to jump past State with a big conference tourney win, there are only so many conferences where that big win is a possibility. (Side Note - If UVA finishes in the Top 40, that would be a Q1A win on the road for State.)
So who is guaranteed from this table? I pick Iowa, Marquette, OU, L'ville, Auburn, Florida, LSU (last two because of overall SOS).
Which leaves only three to six at-large bids left.
I need to look at Stanford and USC more closely, but they could easily be guarantees as well....which would leave only 1-3 bids left.
So the bottom line is that State's position is not as good as I thought when I started this little exercise. I would guess that 1-1 in the ACCT puts State into consideration, but no guarantees. 2-1 would give the guarantee that we're all looking for.