These updates are a lot more fun to write after a win than after a State loss…or after multiple losses. So let's get to it.
TREND GRAPHS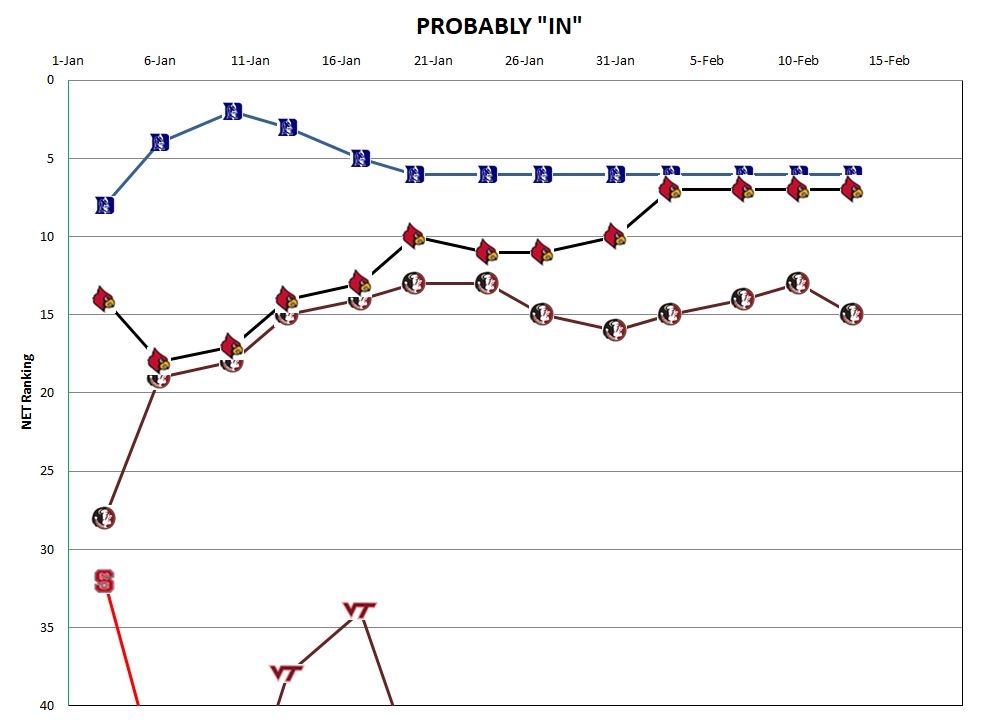 The Top 3 have seven ACC losses between them. After watching GT hold off L'ville in Atlanta, I thought that I would gather up all the losses into one table: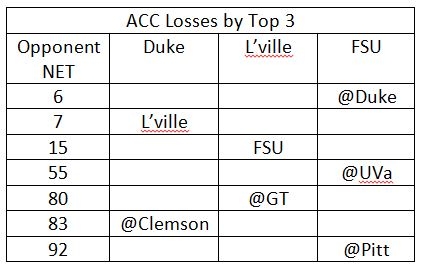 I found it interesting that in the three games played between the Top 3, each team has won one...with two of the wins being on the road. There is only one more game left between the Top 3 when L'ville visits FSU on 2/24.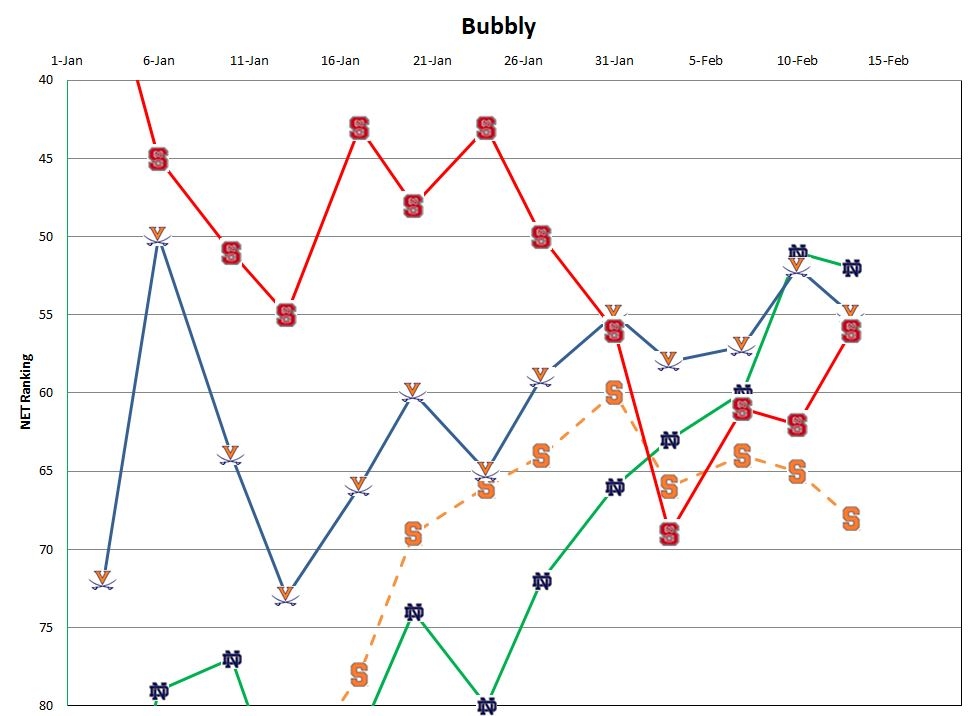 I decided to clean up this graph by removing Clemson, VT, GT, and Pitt. For the next little while when I refer to "ACC Bubble Teams", these are the four that I will be talking about. I wish that I had made this decision last week because I could then have used the term "Bubble Tuesday" when these four teams played amongst themselves. The original graph still lives on my spreadsheet, so I can easily pull it back out if needed.
It's interesting that the woeful offensive performance by both teams in C'ville led to a slight drop in both team's NET rankings. In the other Tuesday matchup, State sucked less than SYR and got a nice jump in the NET.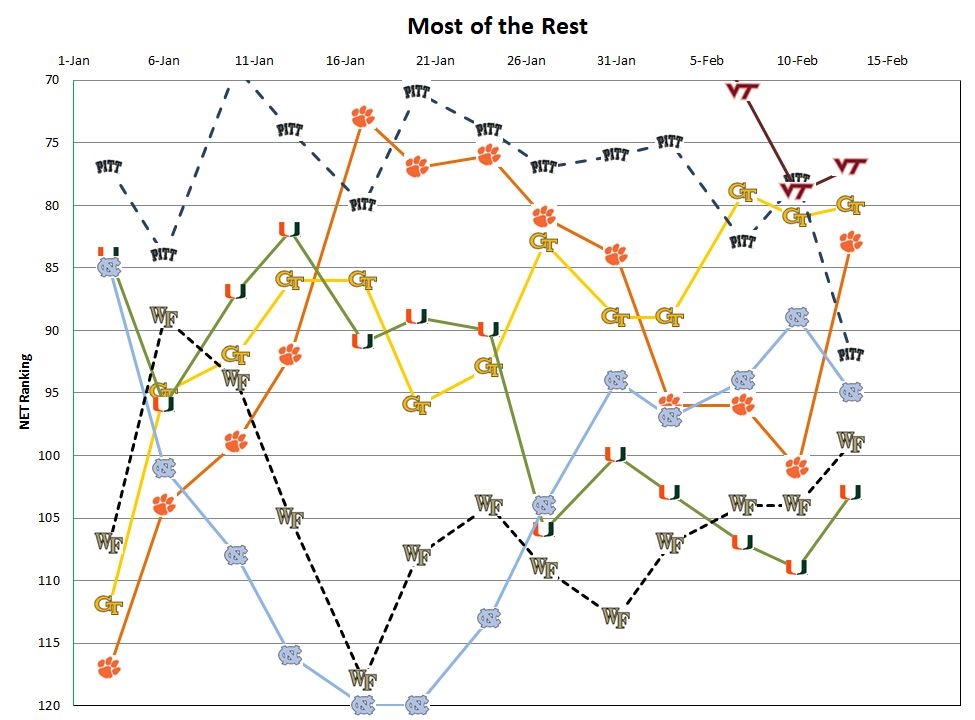 I expanded the y-axis on this graph to get most everyone included and even got a couple of data points for VT. This graph is obviously messy, but I did what I could do and deleted SYR and ND. If anyone climbs off the top of this graph, then we can move them back to the "Bubbly" graph.
It's not true that the ONLY reason I keep putting this graph up is the opportunity to laugh at UNC. But it is true that I wouldn't bother with it if State was languishing below the NIT line.
NITTY GRITTY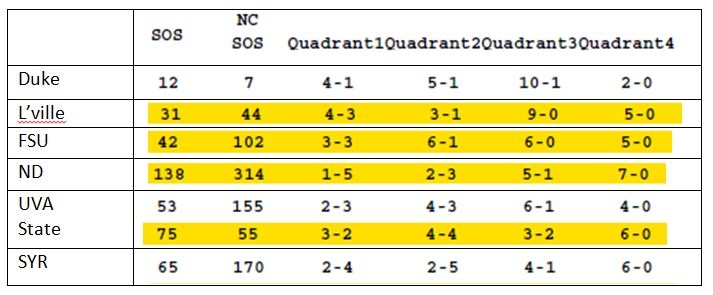 I clipped the Q1/Q2 results for three of the Bubble teams last week and we saw that UVa is the only one of the four with a Q1A win. Last night during the UVa/ND game, the announcers said that Lunardi has put UVa back in his bracket as an 11 seed. I'm not going to do an entire bracket just to see if I can agree with Lunardi about UVa. But I do agree that the FSU win puts UVa ahead of the other three ACC bubble teams for now.
When Wisconsin fell out of the Top 30, State lost a Q1 win. I checked their resume and the Badgers are pretty much guaranteed an at-large bid so that does give State a win over a NCAAT team (at home). Which brings up the next logical question, does it really matter if the Wisconsin win falls into Q1B versus Q2A. I would like to think that Wisconsin being ranked 32 (as of today) versus being in Q1B wouldn't make any difference. But in the end, you have to figure that the total quantity of Q1 wins has to matter…even if we don't know exactly how much.
So I fell down a Big 10 Rabbit Hole, but managed to pull out before I spent hours going through the whole conference. Here's an interesting table sorted by ESPN's prediction of remaining SOS: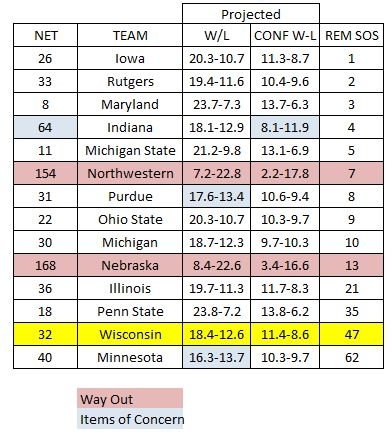 So with one of the easiest schedules left in the Big 10, we can hope that Wisconsin can climb back into the Top 30 and give State another Q1 win.
Big 10 Rabbit Hole ahead:
If the Selection Committee were meeting today, it's pretty obvious that they would have to at least discuss 12 of the 14 teams in the Big 10. But even in this small table, there are some warning flags that jumped out to me:

- Combine IU's NET ranking with a tough remaining schedule and you have to wonder if they can keep their NET ranking in range to make the NCAAT.
- Minnesota's projected win total might not be good enough (want to be four games over .500). So they might need to perform better than projected.
- Purdue's projected win total is enough, but they need to perform at least as well as projected.
I looked at Indiana's team sheet and then managed to break away from any type of deeper analysis. (IU could be interesting to discuss again this year.) Maybe after everyone from the Big 10 has been eliminated from the NCAAT, I can take a look back at the Selection Committee's decisions.
ACC STANDINGS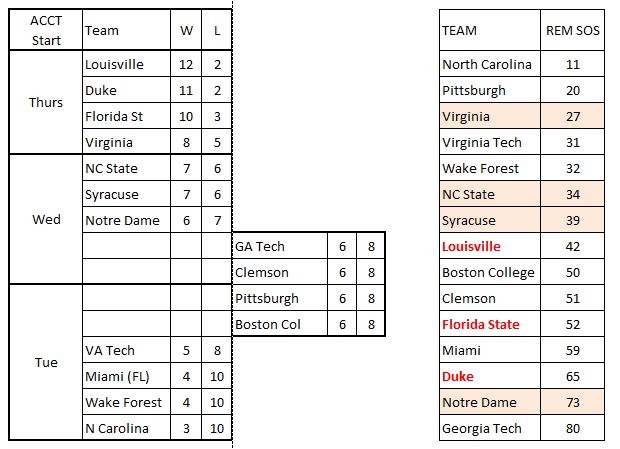 I threw in an additional table from ESPN's BPI projections on remaining SOS. Hopefully, the SOS table will soothe those State fans having nightmares about UNC turning their season around and making the NCAAT. It ain't happening.
ACC SCHEDULE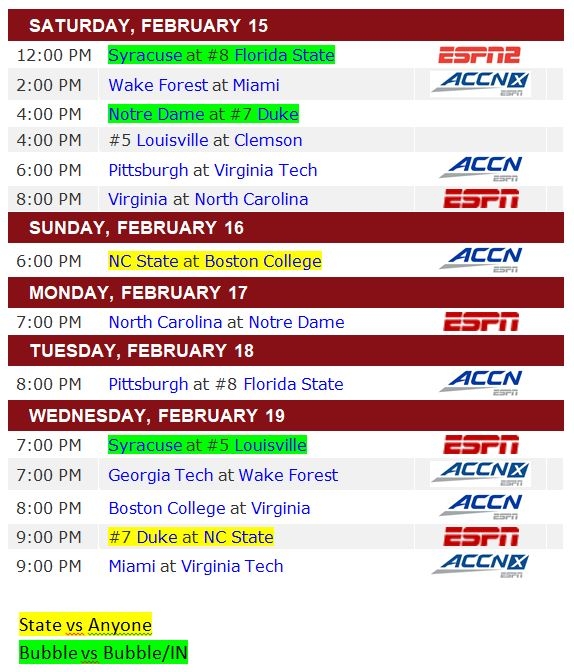 When you throw in a weekend break in addition to five days between SYR and BC….this has to be one of the "easiest" three-game road stretches ever. Then comes the Duke/FSU home stand where State absolutely has to have at least one win.
SYR also gets two shots at a key win…but theirs are both on the road.