Not the most thrilling week of basketball I've ever seen, but it's another one in the books. So let's get to it.
TREND GRAPHS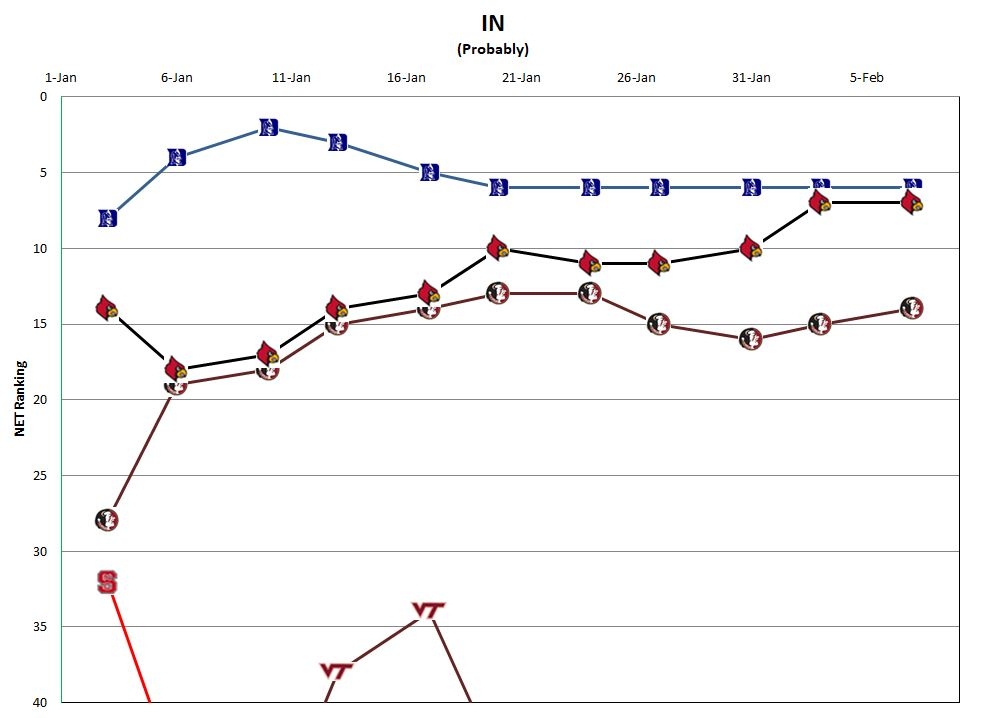 Duke has won 4 in a row
L-ville has won 9 in a row
FSU – has won 7 of 8 in New Year
So these continue to race ahead of the rest of the pack.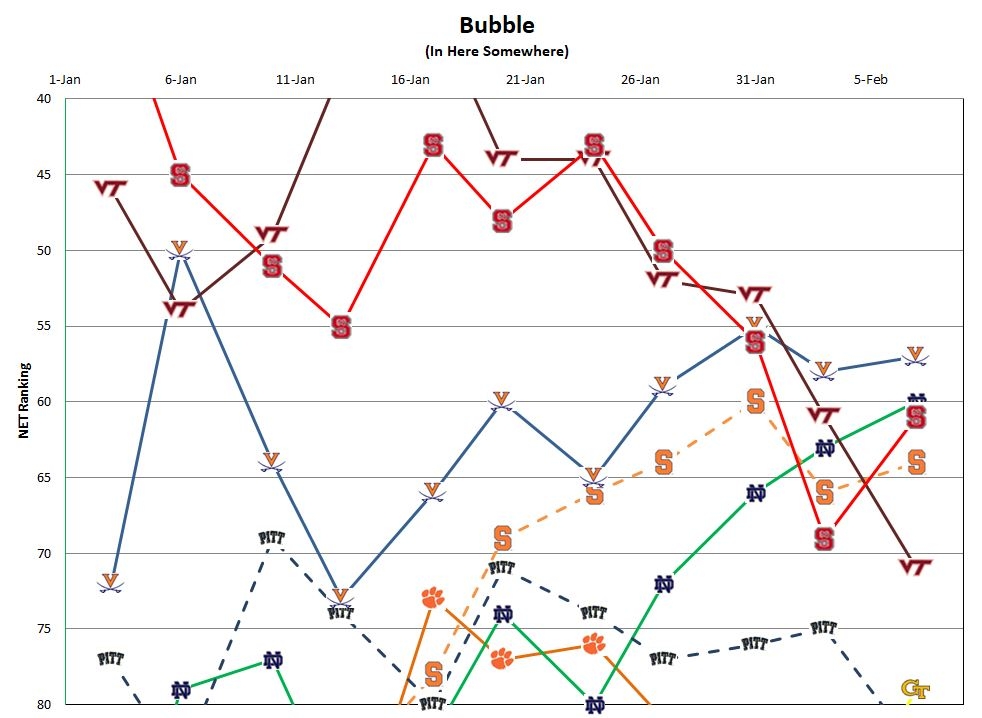 UVa – Won 3 in a row and 4 of 5 since ending a three game skid
ND – Riding a 3-game home winning streak (WF, GT, Pitt)
State halted a 3-game skid on Wed
SYR - In the New Year they've lost 2, then won 5, then lost 2
VT - lost 4 straight and 5 of 6 games
GT – won 3 of 4 and showed up in our Bubble Graph
Pitt – lost 3 of 4 to fall into next graph
The interesting thing here is how much ND improved their ranking with three home wins against a rather lackluster slate of opponents. You won't make the NCAAT with only a NET ranking (as State fans saw last year), but your NET ranking can take you out of contention. In other words, winning is always better than losing.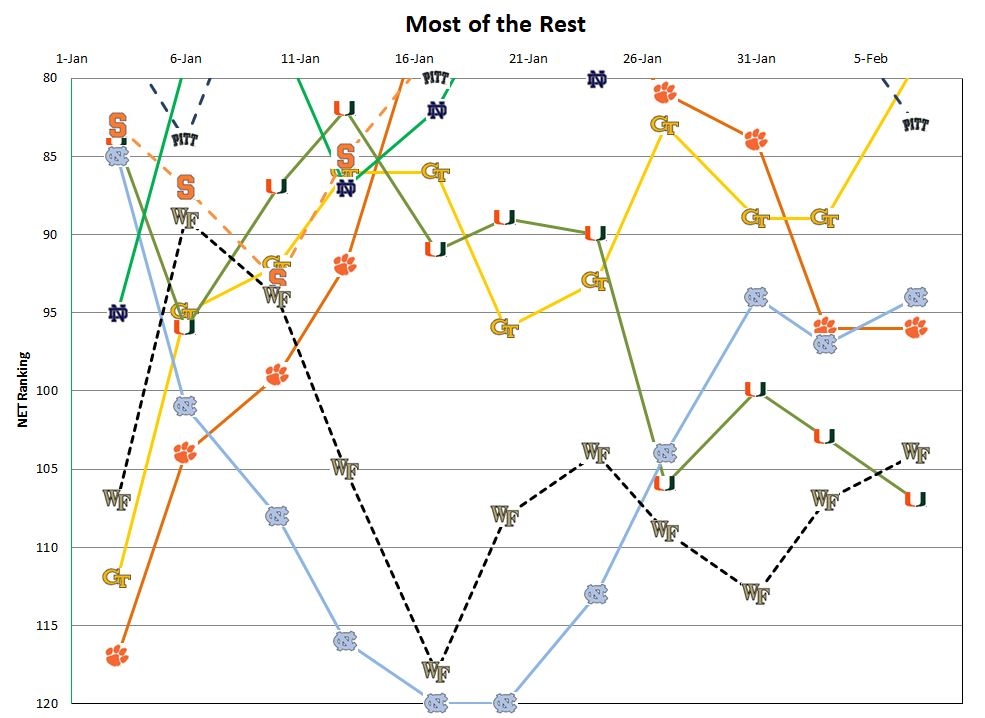 Unlike the Top 40 graph, the last two graphs can get rather congested and confusing if you try to absorb the whole thing in one glance. I start at the right side of the graph and then look back at a given team to see what they've done over time. I like the trend graphs because it's easy to see the teams that are collapsing or climbing….and thus worth discussing.
NITTY-GRITTY REPORT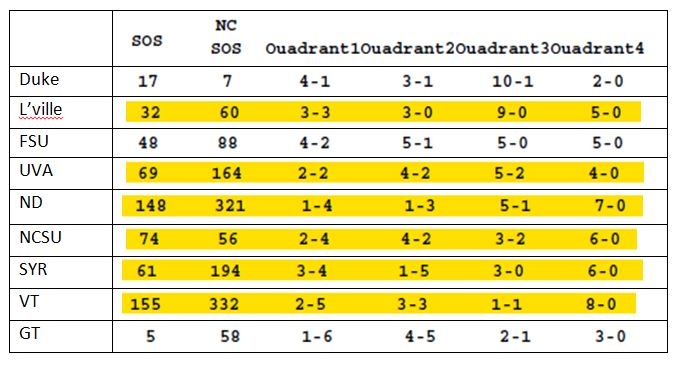 https://extra.ncaa.org/solutions/rpi/Stats%20Library/NET%20Nitty%20Gritty%20-%20Feb.%205,%202020.pdf
I almost didn't include this because it didn't feel like much had changed since last week. But GT makes the table for the first time and they gave me another look at how weak State's conference schedule has been to date.
Compare the OOC and overall SOS rankings for GT and State. They are essentially tied in OOC SOS. But when you look at overall SOS rankings, GT's ACC schedule has pushed them into single-digits in overall SOS, while State's overall SOS has fallen quite a bit. Just another indication of just how easy State's ACC slate has been so far.

ACC STANDINGS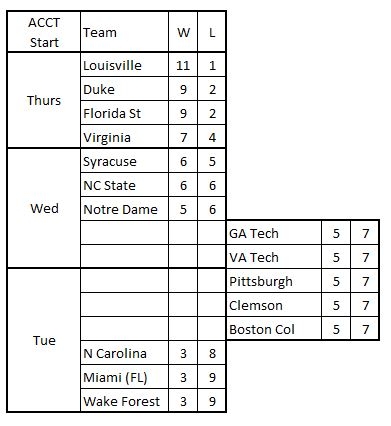 I asked last week if anyone knows whether or not GT will be banned for the post-season or not. I still don't know the final answer, but the ACC conference webpage still shows three games on Tuesday. So we'll go with that for now.
So when we look at the standings and the trend graphs, it's reasonable to wonder how close UVA, SYR, and ND are to the NCAAT bubble. So let's take a look: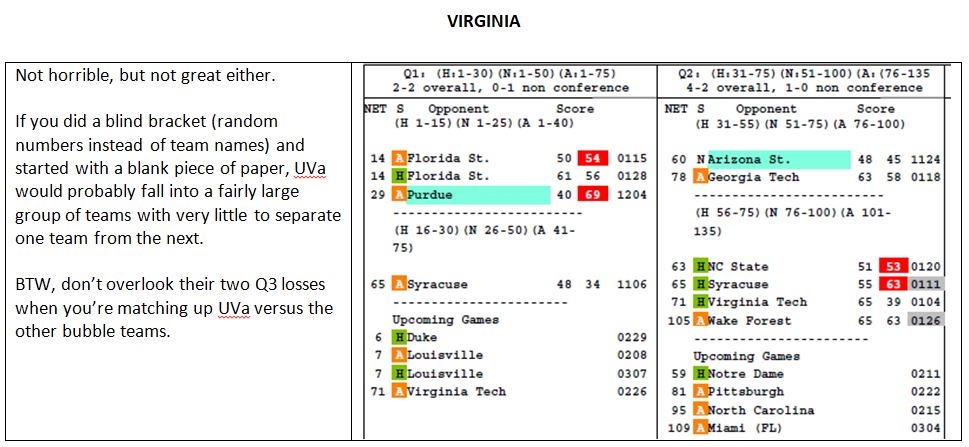 It's hard to fairly evaluate this large bubble group because of teams hanging around the quadrant break points. One more loss and FSU probably falls to a Q1B win and leaves them with no Q1A wins. GT wins one more game and they likely have another Q1 win. The open question is exactly how the Selection Committee views those wins that fall just above or just below one of those break points.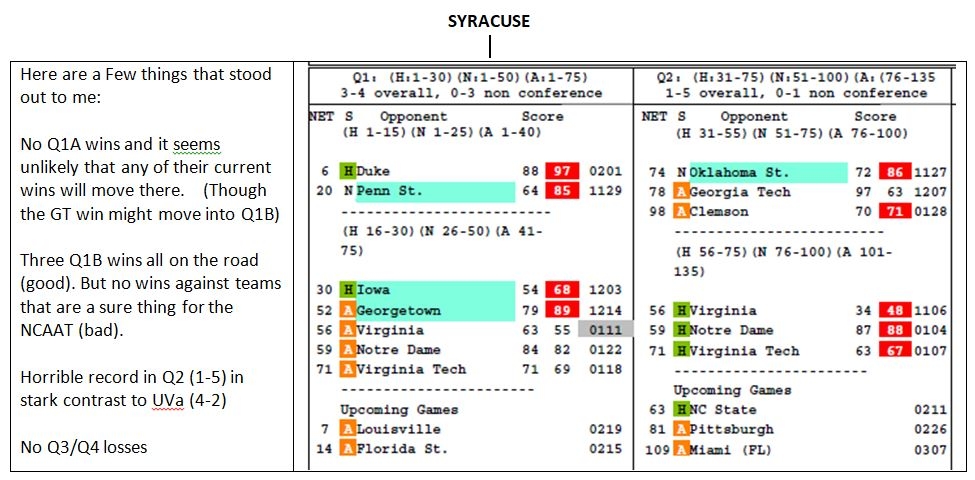 So let's ignore the current brackets and assume that you had to pick between SYR and UVA for the NCAAT. What do you do?
The answer depends on what "things" you value most and we're not really sure how some of the lesser items on the team sheets are used by the Selection Committee. For me, I would take UVA because of their win vs a NCAAT team (FSU) and the much better record vs Q2. Thoughts? (Note that even though neither UVA nor SYR are on the right side of the bubble today, this is the type of decision that will have to be made.)
Now for ND: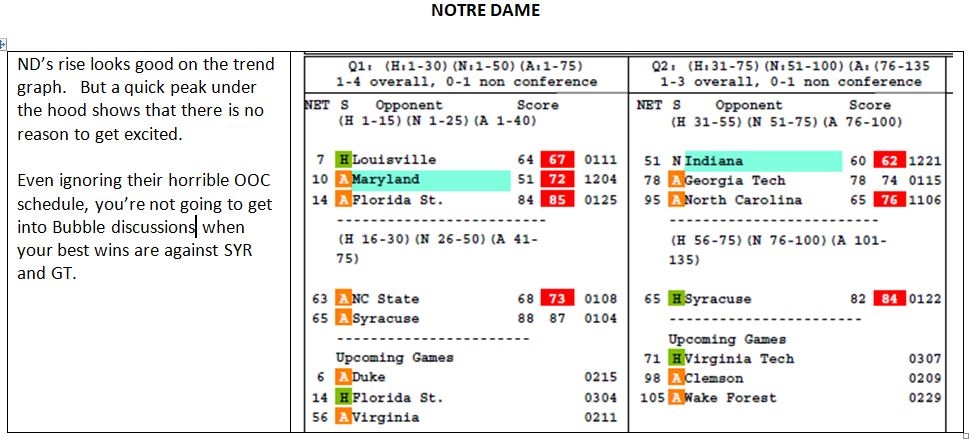 UPCOMING ACC SCHEDULE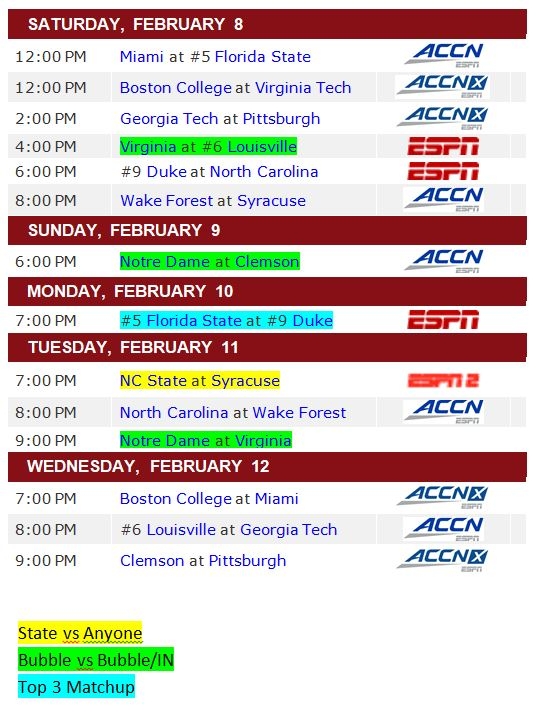 After having two back-to-back Sat/Mon schedules, State gets their weekend break. Spoiler Alert, since they play on Tuesday next week, they will get an extra day or so to prepare for another far-north trip when they go to BC on the next Sunday.

There are only four games played between the top 3 during the regular season. FSU and L'ville play each other twice and Duke once. We get one of those matchups on Monday night.