Well, we've reached the half-way point of the ACC regular season and this will be my least favorite mid-season look at the ACC since before the Keatts era. If I were filling out a NCAAT bracket today, I would only have three ACC teams in the field. This was always slated to be the worst ACC of the 15-team era and things look worse today than they did at the start of the New Year.
TREND GRAPHS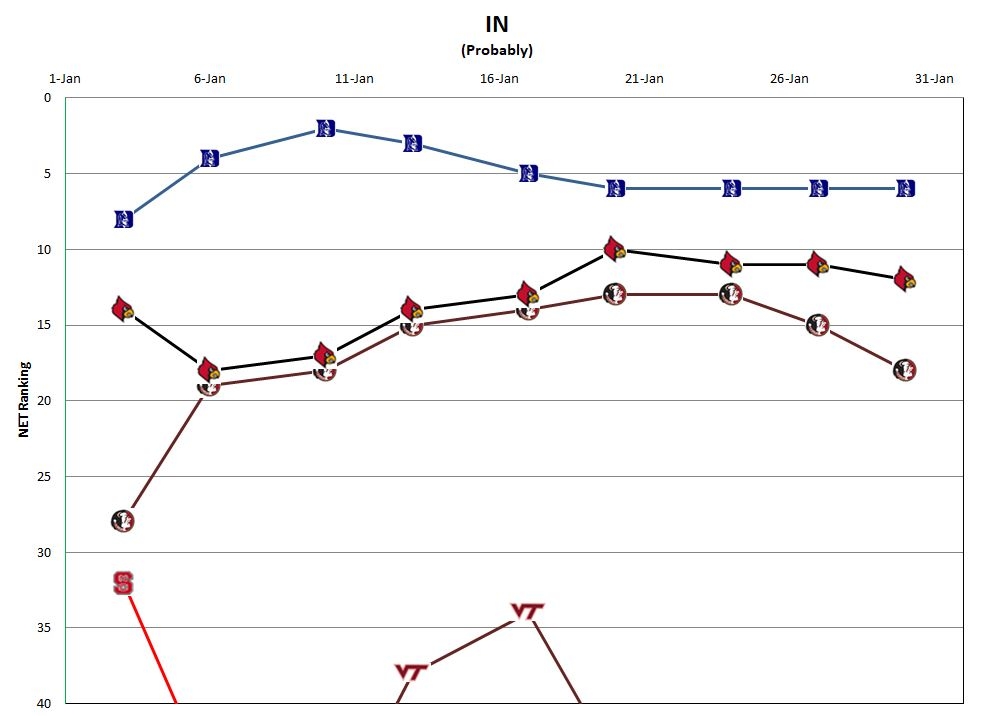 FSU only lost one game over the last week, but they lost some ground to the field during their break.
Duke is on a two-game winning streak; L'ville is on a seven game winning streak; and the Noles had a 10-game winning streak broken in C'ville....and that's about it.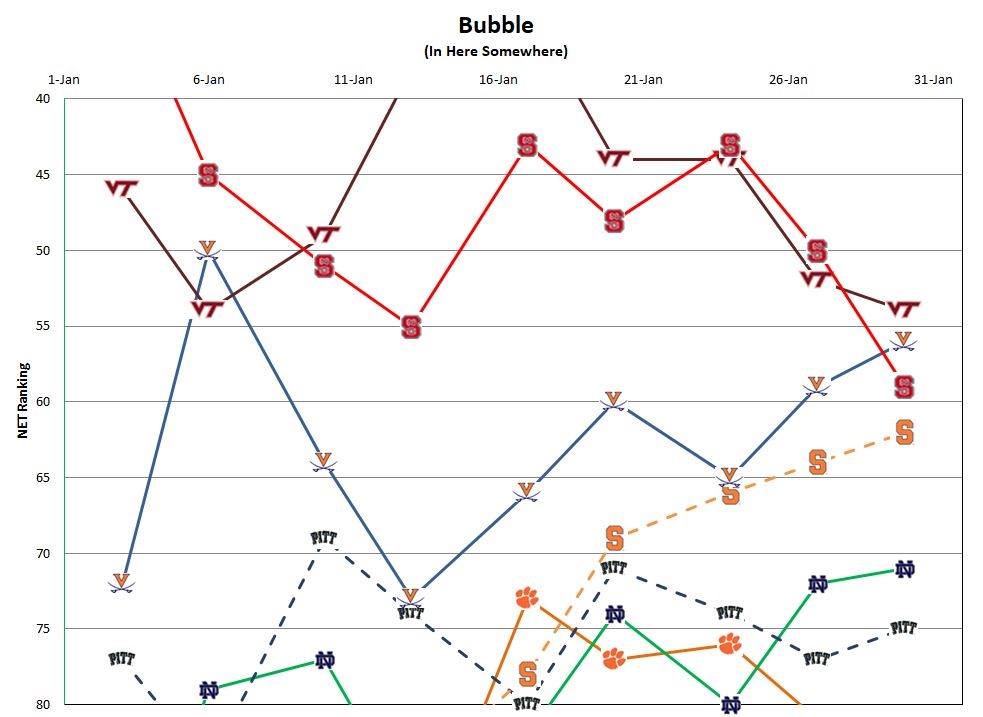 A whole lot of ugly on display here. The one semi-bright spot in this graph is that SYR had a 5-game winning streak broken at Clemson (by only one point). So SYR is showing a steady rise through the rankings (for now).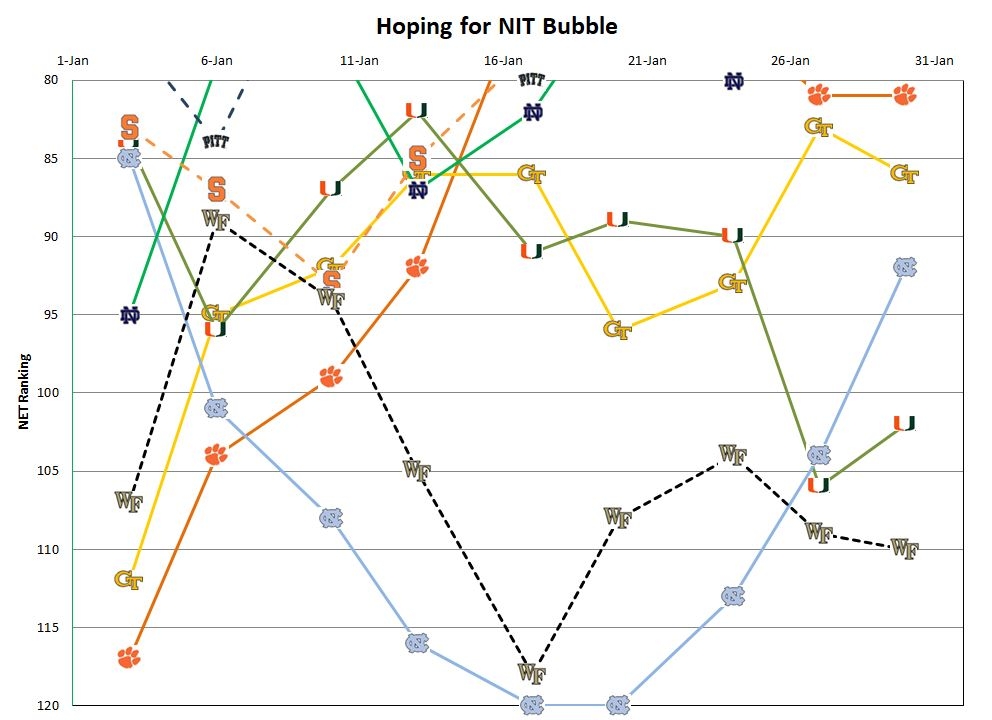 Don't know how much this graph is worth, but here it is. UNC's rise through the rankings is due to getting beat by a so-so team on the road (VT) and then actually winning two games (Miami and State).
NITTY-GRITTY REPORT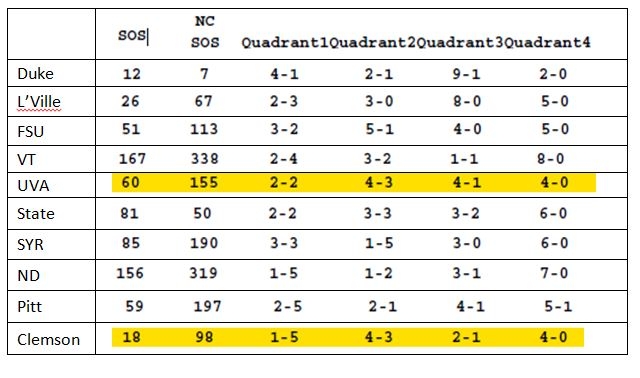 https://extra.ncaa.org/solutions/rpi/Stats%20Library/NET%20Nitty%20Gritty%20-%20Jan.%2029,%202020.pdf
(Note: The highlighted lines come from snipping the Nitty-Gritty report linked above and have no special meaning.)
Let's start with an SOS discussion…
I see no reason to expect either VT or ND to dig themselves out of the gaping hole they created with their OOC schedule. Thus I see no reason to dig into their Q1 wins or anything else. If I'm wrong, then I'll come back to them at a later date.
If you look at the precipitous drop in Pitt and Clemson's SOS ranking from the nonconference schedule through half of the ACC season, then it's easy to conclude that their first half schedule was pretty brutal. I don't think that either team is good enough to make the NCAAT, but we'll keep track of them on the trend graphs and can come back for a closer look if either team proves that they deserve one.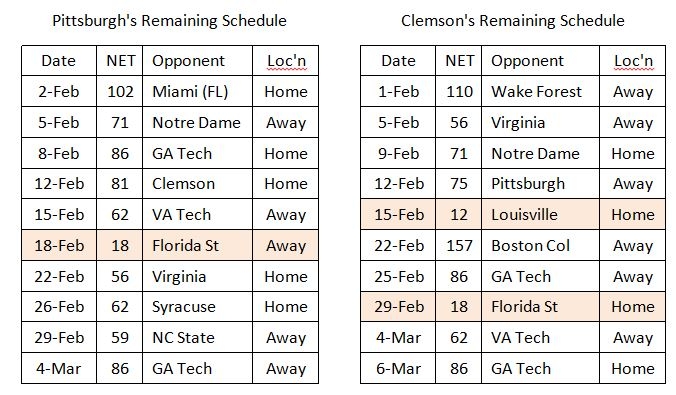 If they can't make a move with the second half of their conference schedule, then they weren't really ever good enough for us to spend much time discussing.
On the opposite end of the spectrum, State's OOC schedule now ranks higher than their overall SOS….meaning that State's conference schedule to date has been so easy that it degraded their overall SOS. (It also means that State had one of the easiest ACC schedules to this point in the season.) Obviously that means that things are going to be much tougher from here on out….and State didn't perform well against an "easy" schedule. Here's State's entire conference schedule: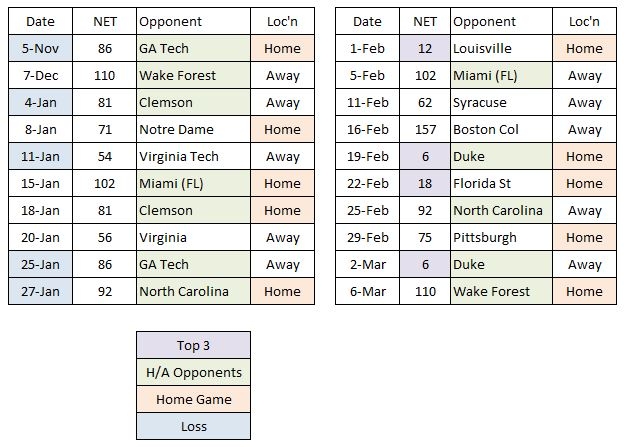 Assuming that the last week didn't define State's season, then the next three weeks surely will. Three home games against the top of the conference sandwiched around a three-game road stretch of "winnable" games. If State can go 3-3 with at least one home win over the next six games, then they might have a chance. If not, then the NIT represents a best-case scenario. (Note that after State's "performance" against GT's zone, I'm really not looking forward to the trip north to SYR.)
SYR made a mini-run before the loss at Clemson, but I want to see more before I get excited. Same with UVA….one upset win does not a season make. We'll watch what happens on the trend graphs and go from there.
ACC STANDINGS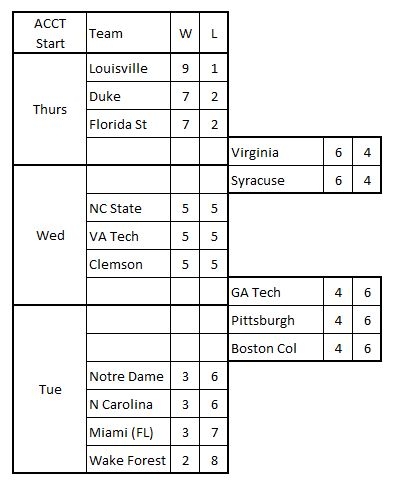 Has anyone seen anything recent about GT's post-season ban? I found articles from Sept discussing the ban and articles from Nov saying that GT was appealing the ban. If anyone knows more, then let me know. If GT doesn't play in the ACCT, then there will only be two games on Tues (based on what happened with L'ville's post-season ban).
UPCOMING ACC SCHEDULE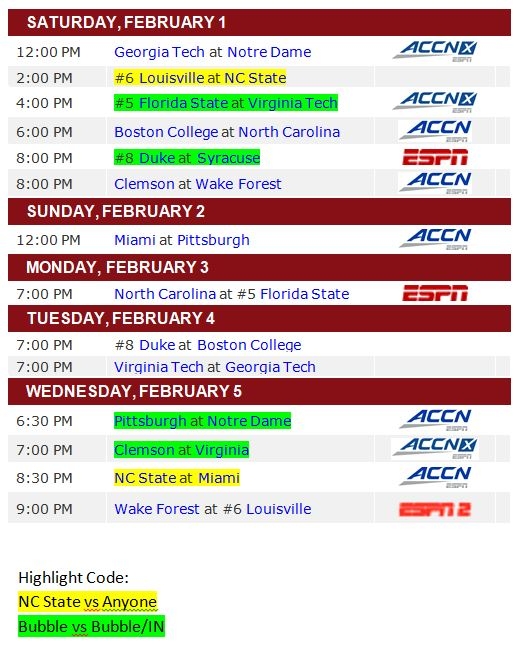 Post Script: For the rest of the season, any ACC Updates that I do will be on Thurs/Fri. The schedule is full of Sun/Mon games with nothing on Thurs/Fri until the last week of the conference schedule. So it only makes sense to do an update that includes all games played to date and with a validity that will last more than 12 hours. I made that decision when I realized that the UNC game was the midpoint of State's schedule….and almost didn't even put this one up.