I can't manage to gather any enthusiasm or preference in the Sunday night matchup between Pitt and Miami. So I'm going to do my weekly roundup today and mostly ignore this game.
TREND GRAPHS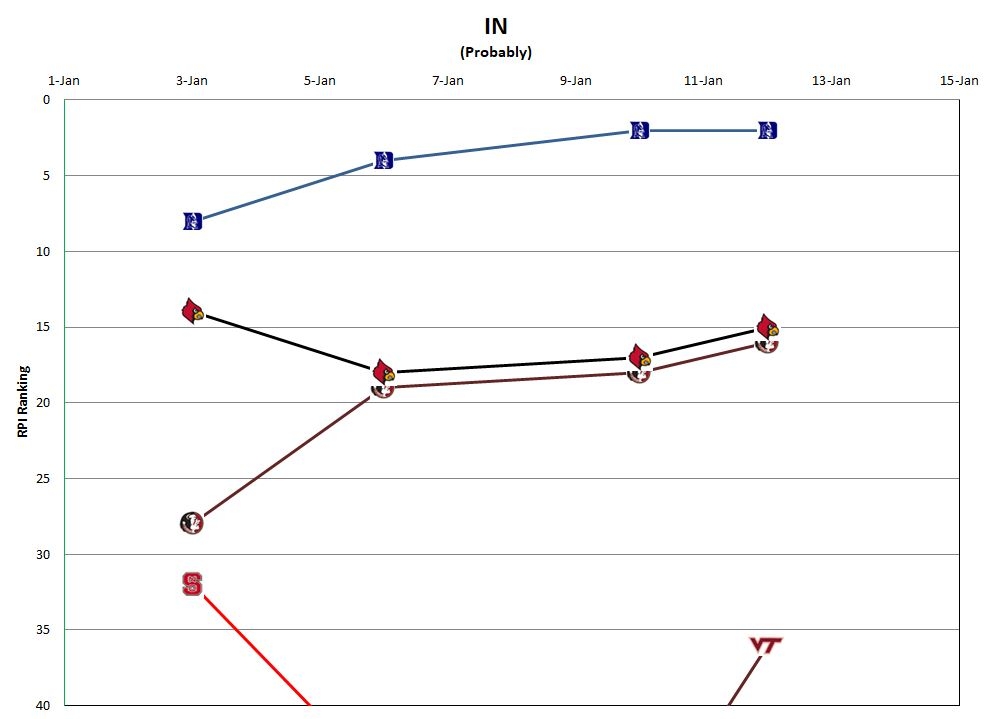 The only big game from the top of the ACC came midweek with FSU getting a big road victory at L'ville.
State's first data point was taken before the Clemson loss. 1-2 for January has State's ranking pretty much in free fall.
I'm surprised that VT's home win over State resulted in that big of a jump…but it is what it is.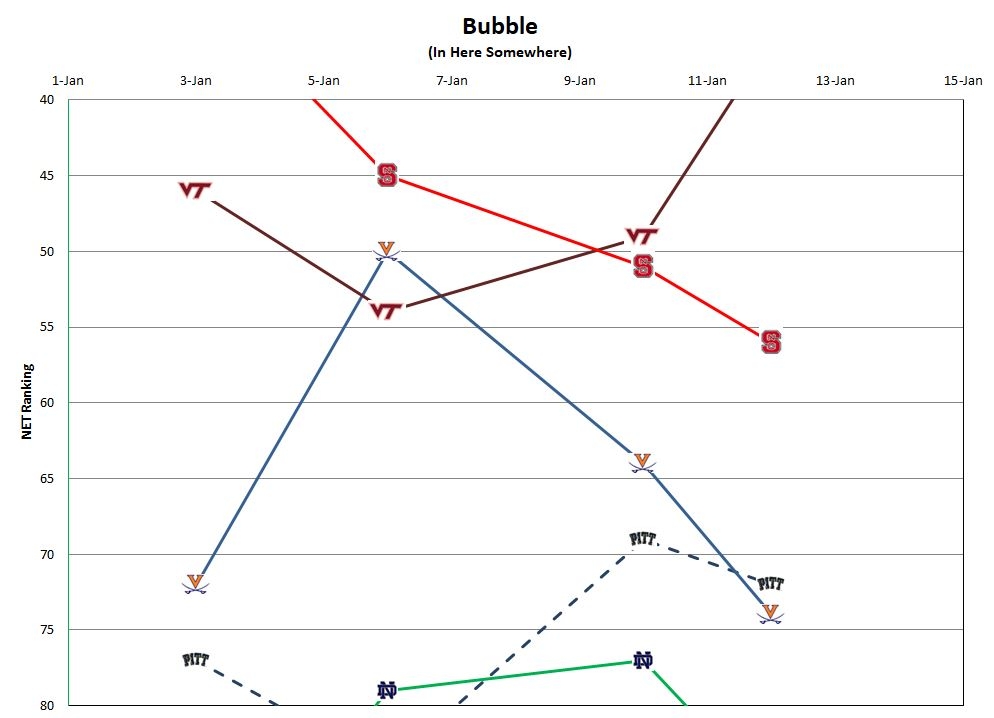 UVa started the week ranked #18 in the AP poll. I'm sure that their 0-2 week will correct that mistake and I'll have a little more to say about the Hoo's in a minute.
I looked at one of last season's posts and 2/3 of the conference was represented on the first two graphs. Depending on how far Pitt drops, we have a little over 1/3 conference represented in my two normal graphs. So to cover everyone except BC, here's a new graph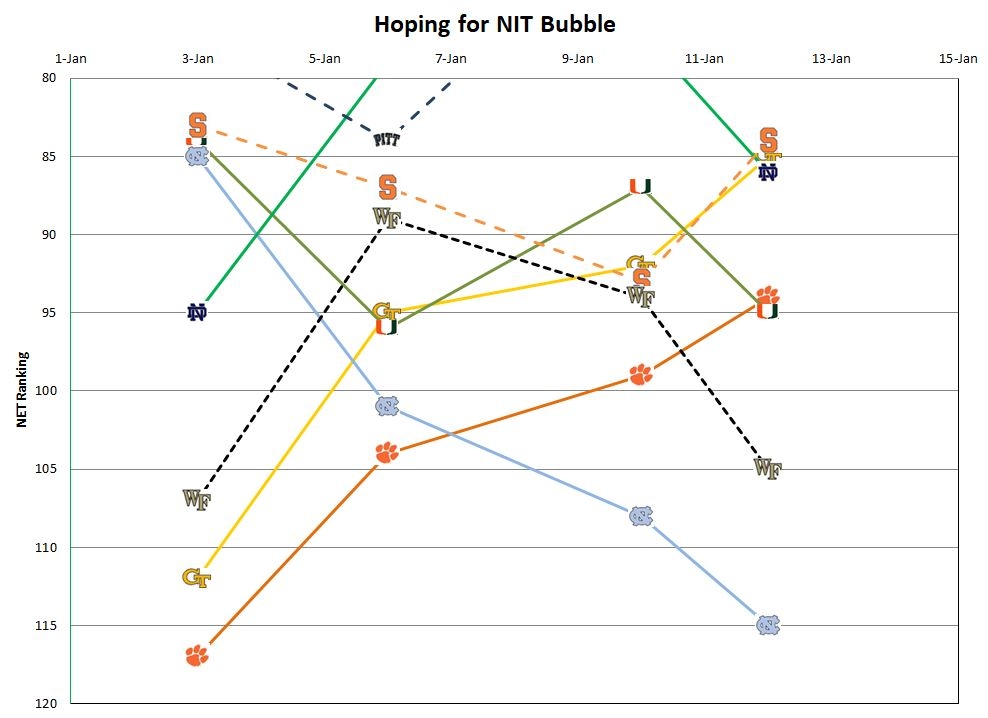 I don't know how much this graph is worth, but it takes next to nothing to add it to this post. I figure that best case, we'll get to watch someone climb up to the NCAAT Bubble AND laugh at UNC's woes. Worst case, we'll still laugh at UNC and I'll drop the graph if it proves to be worthless.
NET SUMMARY
Since I can't find a website with NET data that is easily turned into a nice-looking table, I'll use the snipping tool to produce an ugly table that summarizes those teams with a NET ranking of 75th or better from the NCAA's Nitty-Gritty pdf.
https://extra.ncaa.org/solutions/rpi/Stats%20Library/NET%20Nitty%20Gritty%20-%20Jan.%2011,%202020.pdf


Last Tuesday, I started playing around with the pdf linked above to figure out if I could produce a legible table. This is the best combination legibility plus ease of preparation that I could come up with. If you have any thoughts on what I could do better, share them in the comments.
State's OOC opponents must have had a bad week, since State's NC SOS dropped from 60-something on Tuesday to 109 on Sunday. But just like the NET graphs, I expect the NC SOS to bounce around and then eventually settle out. This isn't anything critical yet, but we'll want to keep an eye on this (assuming that State starts winning).
There were two things that jumped out to me last Tue that I wanted to point out. The first is low-hanging fruit in that VT has reverted to a Greenburg-like OOC schedule that too often comes out of Blacksburg. I really don't know if VT is good enough to stay around the Bubble or not, but their OOC schedule has created a large hole to dig out of. On the plus side, they have a Q1A win over Mich St in a neutral location (which is very good).

UVa played a harder, but uninspiring OOC schedule. Here's a snip of their team sheet showing their Q1 and Q2 games.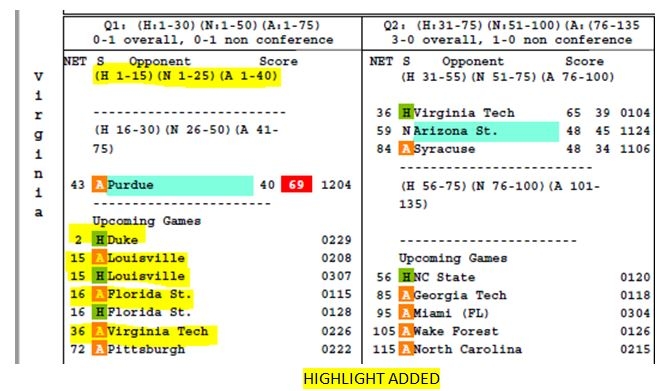 We all know that the AP/Coach's rankings are based as much on reputation as results, especially early in the year. Any team with the schedule that UVA has played certainly hasn't proven anything that would have warranted inclusion in anyone's Top 25 ….especially since their only Q1 game was a curb-stomping by what appears to be a very average Purdue team.
In any event, I've highlighted their current Q1A games left to play. Rankings can and will change from today's numbers. So UVA has somewhere between three and six Q1A games left to play. But first, they better start winning before their NET ranking falls below the Bubble Zone.
After looking at UVA's remaining schedule, I figured I needed to look at State's…especially since I mentioned last week that State will likely end up with one of the easier conference schedules.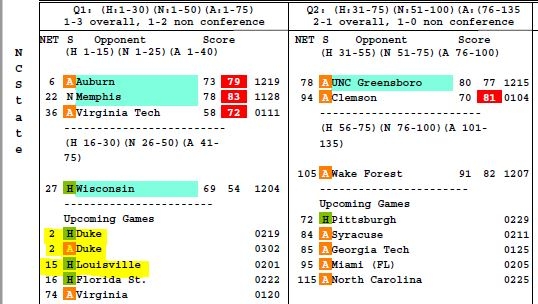 So it looks like State will end up with somewhere between two and four Q1A games left to play. In case it's not obvious…..THAT'S NOT GOOD. But much like UVA, State needs to start winning or the Q1A results won't matter to anyone.
ACC STANDINGS
I manually put in the results of the Sunday night Pitt/Miami game into the standings: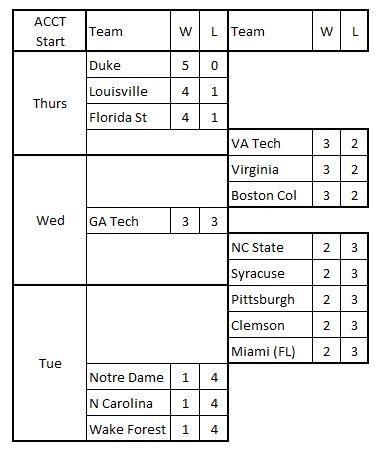 I don't know that the standings this early in the season are worth a lot of discussion. But it is worth pointing out that both GT and BC are doing much better than I expected before the season started.
If the standings are not worth much, then projections of final standings are obviously worth even less. But I found the BPI projections interesting anyway: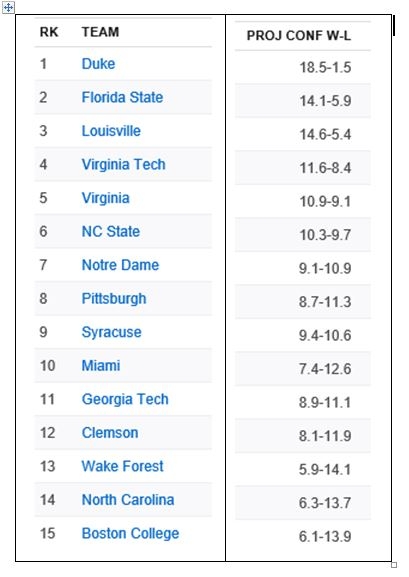 If these projections prove to be at least semi-accurate, then the ACC could easily end up with only three NCAAT bids. I also find it interesting/depressing that from #6 to #15, the projected wins ranged from six to ten. That pretty much describes a bunch of mediocre teams in a mediocre conference.
UPCOMING SCHEDULE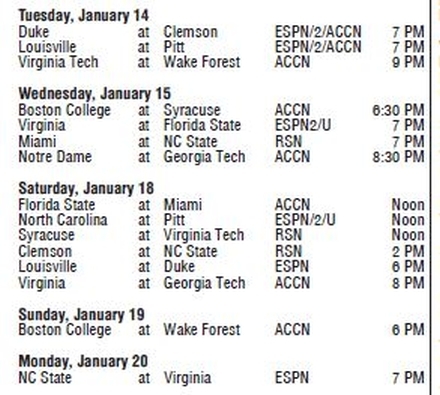 In addition to State's two games, there are a couple of things that stand out to me:
- UVA at FSU will give us more data on both teams and could move the Hoos beyond the bubble.

- L'ville at Duke is one of the few matchups we'll have at the top of the conference
A quick glance at the ACC master schedule turned up two Monday games for State. The Monday games are really bad because you only have Sunday to focus on Monday's game. If the Monday games are key matchups, then you run the risk of turning the Sat games into potential traps. That's what State faces this week with Clemson on Sat and UVA on Monday. (The same scenario will turn up for State in the last week of the regular season with Pitt on Sat and at Duke the next Monday.)

With Sunday's game looking uninspiring and State's game on Monday, I'll try and get the next update done on Sunday again. That's it for me. What you got?