I would like to wish everyone here a belated Happy New Year and take a quick look around the ACC to see what we can find interesting. Spoiler Alert: Those from my generation will likely remember the phrase "Don't look Ethel" and if you don't…that means for the most part, it's time to hide your eyes for what is shaping up to a forgettable year for most of the conference.
SO WHAT DID WE LEARN ABOUT THE NET and the NCAAT in 18/19?
To be honest, not all that much. We learned that
- The NCAA Selection Committee didn't turn over the selection process to a formula…even one that they had developed for them.
- The Selection Committee wasn't happy with dividing a team's wins into just four quadrants, so they split Q1 and Q2 into sub-quadrants and evidently decided that we didn't need to know what that meant.
- From interviews of the Selection Committee, the Q1A wins are really important and listed as one of the reasons that State didn't get into the NCAAT (State was 0-9 against Q1A opponents IIRC).
- The Selection Committee still takes a dim view of power teams that fill their OOC schedule with cupcakes. My conclusion that the Selection Committee takes punitive action against Bubble teams with weak OOC schedules gains more support.
- I literally have no idea how Q1B and Q2A-B wins are used in the Selection Process. All I can say is that a win here is better than a loss, but may well mean nothing special on Selection Sunday.
In the end, I was disappointed that State didn't get an at-large bid, but I wasn't surprised. Several years ago, Syracuse had three Top 25 wins and a total of six Top 50 wins and all of that earned them a #1 seed in the NIT. State's season and NIT seed both ranked behind that Syracuse team that was discussed here:
https://www.statefansnation.com/2017/03/selection-sunday-post-mortem-2/
WHERE ARE WE AS LEAGUE PLAY REALLY KICKS OFF?
Unfortunately, we aren't going to get as good of a summary as we've had in the recent past. Last year, the NCAA had the NET info in spreadsheet format for down load. So far this year they only have pdfs, which don't transition easily into spreadsheets. The following ranking seems to be getting updated daily and you can hit the "conference" heading and sort the rankings by conference.
https://www.ncaa.com/rankings/basketball-men/d1/ncaa-mens-basketball-net-rankings
So that gives us this table without nearly enough background info: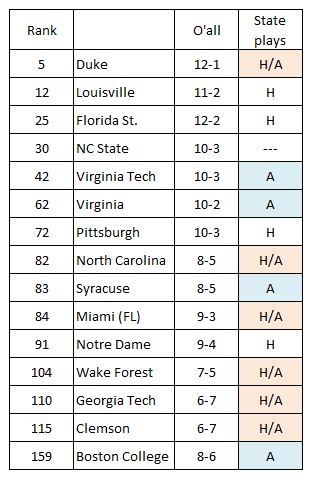 This season could easily net the fewest tournament bids for the 15-team ACC.
STATE's ACC SCHEDULE
Since the table has so little info, I decided to use it as a springboard to discuss State's 2019/2020 ACC schedule. (It's depressing to see that one of State's losses was to a sub-500 GT team.)
As most everyone knows, the ACC has moved a 20 game schedule which means that
- 2-3 conference games are played before the New Year
- Two OOC games are traded in for two conference games
- For most teams, that will mean one less home game.
- The delta between the toughest and easiest conference schedule should tighten up. If life doesn't interfere, I'll look to see how much difference two more conference games make.
In general, adding more conference games means more watchable games. But it looks like this year's ACC slate is not going to produce a lot of games worthy of national attention.
Using today's NET rankings as a ruler, State will once again have one of the weakest schedules in the ACC (for about the third straight year). Assuming that the rankings are somewhat predictive of the final conference standings, State will end up playing 9 or 10 games against teams that will be playing on ACCT Tuesday. This means that you can completely ignore most people that start throwing around a minimum conference record to get a NCAAT bid.
CHRONOLOGICAL SCHEDULE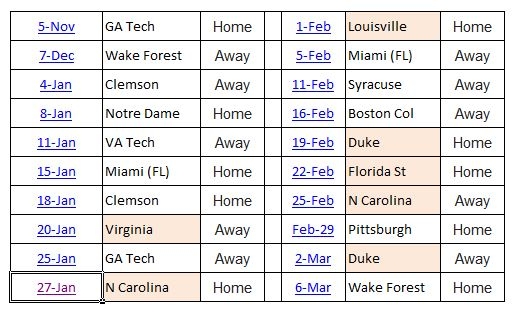 I highlighted the teams that one would typically expect to finish in the upper half of the conference. You can play around with your own final rankings, but it seems pretty clear that the second half of the ACC schedule is going to end up being far tougher than the first half.
MORE INFO
If you go to this link, you can get the NET info on two pdf's that are updated most days.
https://extra.ncaa.org/solutions/rpi/SitePages/Home.aspx
One is the "nitty-gritty" report which gives a one-line summary for each team. The other pdf is the full team sheet that will be used by the Selection Committee.
Looking at State's team sheet, we can see that the Wisconsin and UNC-G wins currently fall into Q1B with little/no chance of moving into Q1A. State went 0-2 against Q1A teams (Auburn, Memphis). Thus State didn't accomplish a lot in the preseason, but at least they didn't dig a big hole that they will have to climb out of. State's OOC schedule currently ranks 56th…which isn't tough enough to warrant any special favors from the Selection Committee, but does move State completely off their punitive radar.
I'm neither particularly depressed nor excited about what we'll see out of State this year. I sort of expected another Bubble-type year and that's about what we've seen so far. Insert George Will quote….Nice thing about being a pessimist is that you're constantly either being proven right or pleasantly surprised. Let's hope for pleasantly surprised this year.
While I have the team sheets open, I might as well run a test to see if the whole thing shows up legibly or not: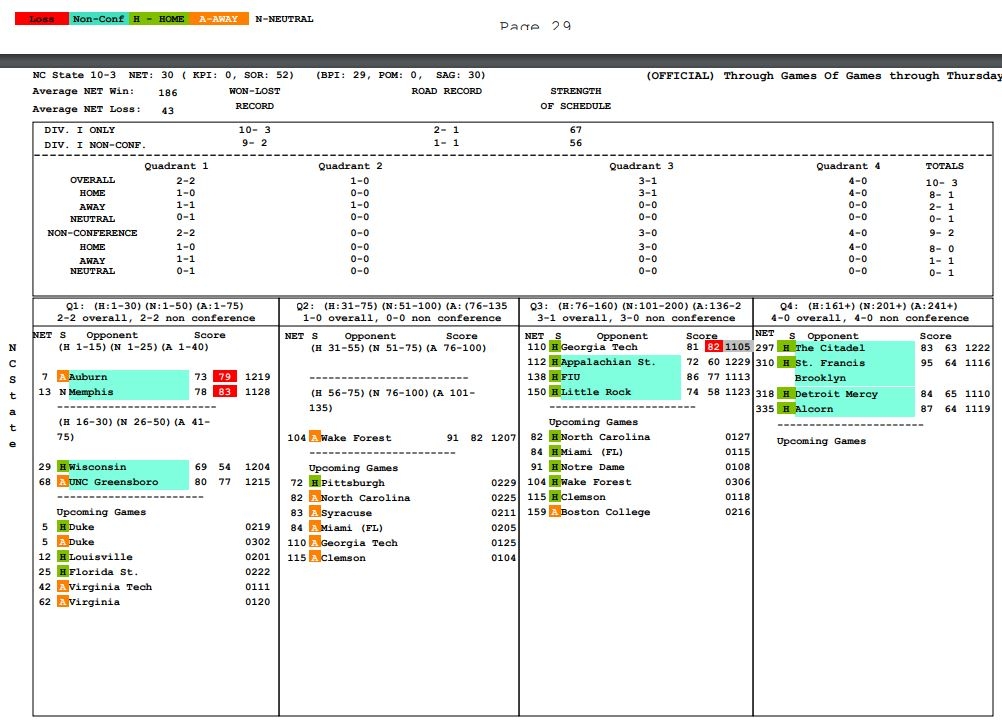 REST OF THE CONFERENCE
I haven't taken the time to spend much time looking around the conference until I started to pull this little write-up together. Hopefully, the NCAA will start releasing the stuff in spreadsheet form so that I can take a better look around the conference. Here are a few things that caught my eye:
UNC ranked at 82 has to rank up pretty high on my pleasant surprises thus far. Unfortunately their struggles were largely caused by serious player injuries and I wouldn't wish that on just about anyone. Reports say that Cole Anthony is expected to make a return sometime in Jan. We'll have to wait and see if they can dig out of the hole they've created, but the road will not be easy. They have two Q1 and two Q2 games at home with six Q1 games and three Q2 games on the road.
The team sheets are really helpful as they lay out the remainder of the regular season sorted by quadrants. At present, Pitt looks to have a pretty miserable schedule left to play…7 home games in Q3, one home game in Q2 and one home game in Q1. The rest of their games fall in Q1 or Q2 and are on the road.
I took a quick look at the conference SOS to see if anything stood out. Miami is in line for the hardest conference schedule with H/A games against Duke, FSU, and L'ville. Duke takes the early lead for the easiest ACC schedule with no H/A games against FSU or L'ville. Duke's toughest H/A opponents are State, UNC, and VT….and only time will tell if those three really qualify as tough or not.
I haven't seen Duke, FSU, or L'ville play, but the data says that those three are the cream of the conference. We'll see what we see, but at least Duke has some Q1A wins in OOC play (Kansas and Mich St). L'ville hasn't played any Q1A games yet and is just 1-2 in Q1B games. (But at least their Q1-B win was a solid thrashing of Michigan at home.) FSU hasn't played any Q1A games either and is 2-2 in Q1B games. Not exactly a stellar resume for what should be the best of the ACC.
UPCOMING SCHEDULE