INTRODUCTION

When I first started studying the Bubble at SFN, I never wanted to go as far as predicting the field. I wanted to be able to pick those ACC teams that were clearly in and clearly out and point out the ones that fell in the grey zone between those two extremes. Overall, I think that the approach used in previous years has served its purpose. For the most part, I was not really surprised by the Selection Committee's decision on the ACC teams with the exception of the pleasant surprise when State (with TJ Warren) got in the First Four when I had given up all hope.
I changed the approach for this year because of the large number of posts over the Interwebs predicting an easy path to the NCAAT with only one Quadrant 1 win and picking up victories against the bottom six in the ACC. (This new approach became practical when the NCAA made the data available for download into Excel.) I think that looking at the whole field made it pretty obvious that State was not secure, even though what I considered obvious wasn't always widely accepted.

Overall, I like what this new approach has shown. I hope to be able to take the Selection Committee's final decisions and compare to the various groups that I've broken down the field into and see if there is any new information for us to use in future years. However, I think it is important to once again stress the simplifying assumption that I have made by ignoring the fact that the team sheets split Q1 and Q2 wins into upper and lower halves. That distinction is not available in the download data and I'm not about to spend the time going through the team sheets manually. So once again, we'll see what we see when the Selection Committee finally speaks.
Now onto the data....
ASSUMED CONFERENCE CHAMPS
Take NET rankings from 1-80 and sort by conference. Assume that the highest rated team in each conference gets the automatic bid and then remove these teams from further analysis. So here are the assumed conference champs:

If any of these teams has to go into review for an at-large bid, I've highlighted some areas of concern. One of the most interesting hypotheticals to examine is Nevada. The other Wolf Pack has not played a particularly challenging schedule and has surprisingly few quality wins despite an impressive NET ranking. If this scenario comes to pass, it will definitely be interesting to see what the Selection Committee and the talking heads have to say.
EASY AT-LARGE BIDS
I toughened up the standard for this week and took teams with 4+ Q1 wins without particularly disabling deficiencies.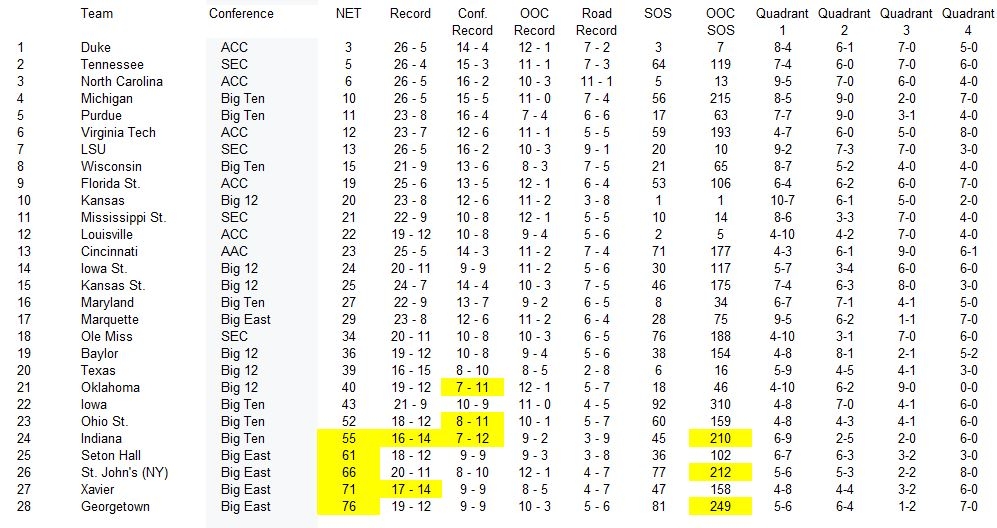 These selections obviously have some controversy attached.
I tracked at-large bids versus RPI ranking for a number of years at SFN. There was a very clear drop in frequency at rankings >55. For the years that I looked, the number selected at 55+ ranged from zero to three. One of the things that I'm interested in is seeing where the bubble range for NET rankings shakes out to be. In any event, it is probably unlikely that all five teams at the bottom of this list get at-large bids. But I left them in because what we're really interested is seeing where State matches up to the field....and right now it is easy to build an argument that these five teams have better resumes than State.

Lunardi has said that over the last five years, eight teams were selected with losing conference records. That fact leads me to believe that conference record is somewhat important, but a losing conference record is not an automatic disqualification. With OU and OSU playing in the two toughest conferences in the nation, I suspect that they will get some slack from the Selection Committee.
Indiana will likely be a controversial decision no matter how the Selection Committee votes. I really think that Indiana needs two more wins in the B10 tourney, but it's hard to be sure. Maybe IU and Xavier will give us some data on the minimum overall winning percentage that the Selection Committee finds acceptable.

St Johns and Georgetown have frighteningly similar resumes. I really don't see how the Selection Committee could only take one of those two.
TOO MANY LOSSES
I just don't see the Selection Committee taking teams with ~.500 overall record no matter how many good wins that they have. So I'm removing these from further consideration:

TOO FEW QUALITY WINS
The Selection Committee has always had the standard that you have to beat good teams to prove that you deserve an at-large bid. These teams fall short of that standard:

LOSING CONFERENCE RECORD

I'm going to add TCU (toughest conf) and throw Providence back.
THE GREY ZONE
So my guess is that there is room for somewhere between 7 and 10 teams from those that didn't fit into any other category

The 8/9 game in the ACCT will result in a Q1 win for someone. I feel like that would be enough to get State into the field, but is probably not enough for Clemson. Even with a loss, State would have some chance...but probably not a very good one.

FINAL THOUGHTS
According to realtimerpi, State's RPI ranking would be 101 if that metric were still being used. This RPI ranking would never even be in consideration for an at-large bid. So as I've pointed out before, Keatts is extremely lucky to have a new system rolled out at the exact same time he decides to schedule teams from various rec leagues. It remains to be seen how State's ridiculous OOC schedule (ranked last in Division 1) affects State's post-season tournament.

On the other side of the old evaluation techniques, I would feel reasonably confident with four Top 50 wins (with one at neutral location) along with an RPI of <65. But I'm not really confident that anyone outside the Selection Committee know how the wins in Q1 and Q2 (along with the splits in each category) are going to be used.
So we'll wait and watch the various conference tourneys and then wait with baited breath for the unveiling of the bracket on Selection Sunday. I've been pressed for time this week so please feel free to add dissenting comments along with the reasoning behind your conclusion.