I'm wasn't going to do anything until late on Monday this week, but believe it or not, the NCAA did me a solid by putting up the NET numbers on Sunday (covering through Sat's games). There's always a chance that something exciting could happen today, but you can't have everything (after all, where would you put it?).
I'm going to start with a few nuggets from Jerry Palm that I referenced in the comments to last week's take on the Bubble:
1) If all you have is a NET ranking, then you really don't have anything.
2) Good wins come from Q1 and Q2 (no mention of relative value between top quadrants)
3) More than four bad losses (Q3+Q4) usually means you don't make the NCAAT
4) "At least one team gets left out of the tournament almost every year primarily because of a very poor non-conference schedule."
https://www.cbssports.com/college-basketball/news/bracketology-faqs-about-the-net-rankings-and-how-the-ncaa-tournament-bracket-is-built-by-the-selection-committee/
So taking NET 1-80, let's see what we have:
First Cut – Presumed conference champion is the highest ranking team in each conference. Table sorted by Net.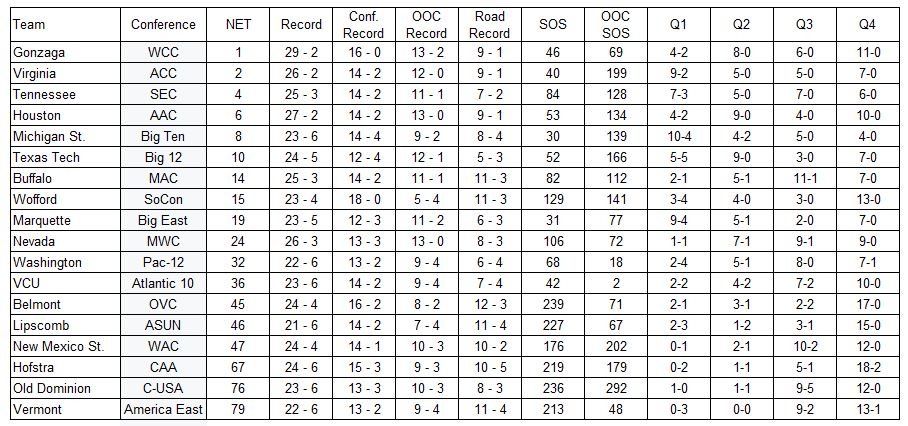 Second Cut – Teams with 3+ Q1 wins and no horrible blots on their resume. (28 Total) Sorted by Q1 wins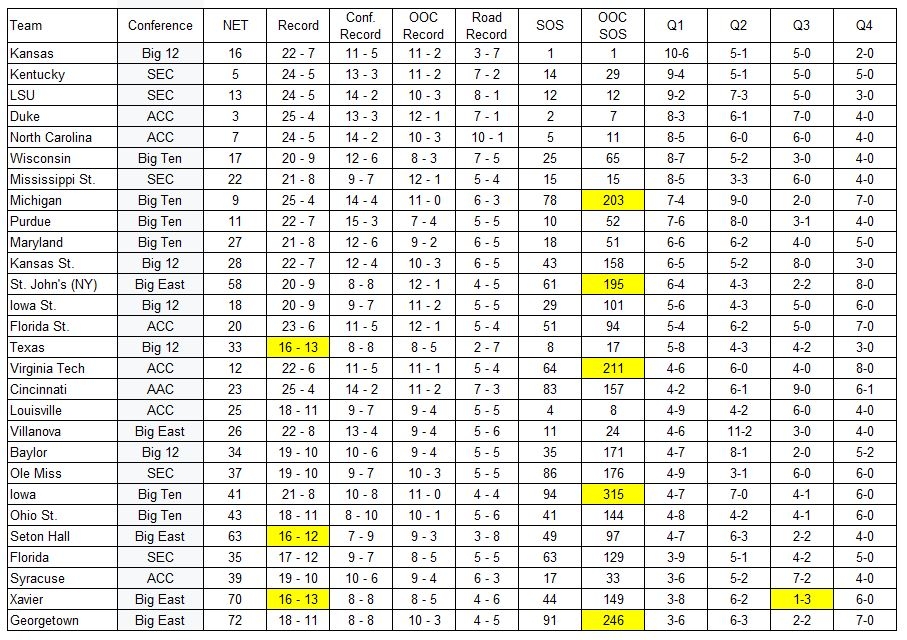 One of the open questions is what is the minimum overall winning percentage that is needed to make the NCAAT. A team with an overall losing winning percentage is out and it seems unlikely that .500 is good enough. So it is possible that a few teams in this table could lose enough to move them back closer to the bubble. But for now, all of these teams seem to be locks for at-large bids. Even if I'm wrong about that, all of these teams clearly have better resumes than State.
Third Cut – Teams with 2+ Q1 Wins and better resume than State.

Based on Palm's comments, Arizona St is right on the verge of having too many bad losses. That line is probably blurry enough that the Sun Devil faithful should be puckered up.

Fourth Cut – State's and similar resumes
These last two tables bring us to 32 at-large teams currently with better resumes than State (meaning that there is only room for four more). So here's State's resume along with a couple that are pretty close.

Specifically for State, they only have two wins against NCAAT teams…Auburn and Syracuse at home. Their best road win is #88 Miami. So once again we're left with the same conclusion that State's resume is not anywhere close to being a lock for the NCAAT.

Penn St (State's other Q1 win) is not likely to make the NCAAT….which is also true for a lot of other Q1 wins for all of college basketball. It will be interesting to see if the Selection Committee actually values a Q1 win (neutral or road) against a team not in the NCAAT more than a Q2 win over an NCAAT team at home. If it isn't, then the NCAA needs to adjust their quadrants.
Fifth and Final Cut – The open question is how does the Selection Committee balance State's miserable OOC schedule with the following teams and their fleas.
Losing conference record with little chance of reaching 0.500

You could make a logical argument that conference record shouldn't matter. But the important point is exactly how does the Selection Committee view these?

Lunardi has said that eight teams have been selected with losing conference records over the last five years. But is there a limit on how bad of a losing record that the Committee will select? Personally, I would take OU's resume over State's in an instant and probably TCU as well.

Losing conference record and overall record at or below 0.500

Is it two strikes and you're out?
Too Few Big Wins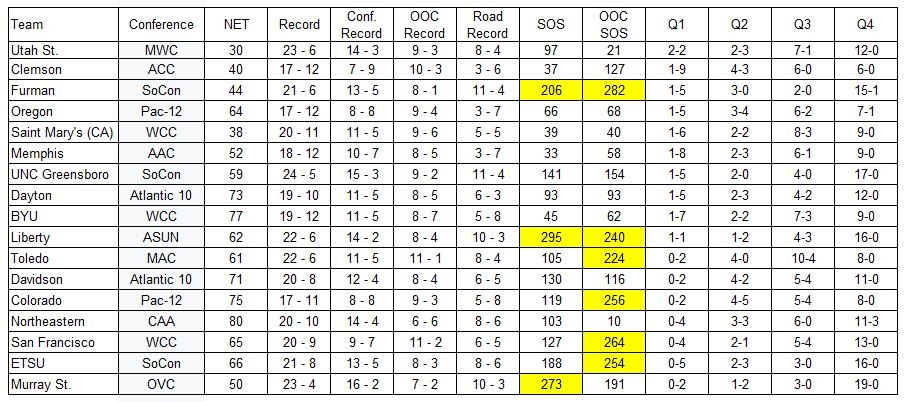 If Utah St doesn't get selected, look for the media types to hype their OOC schedule in comparison to the major schools that did get in.
Jerry Palm's current conclusion on State
NC State -- lost to Florida State 73-78: NC State missed another chance to pick up a quality win away from home. The Wolfpack's next opportunity to do that will not come until the ACC Tournament. They have the classic resume for being excluded, and if you think a soft bubble will save them, I refer you to 2016. The bubble was so bad that year that the committee took five teams with something so negative on their resume that in any other year, they wouldn't have gotten a bid. Yet, they still left out South Carolina because of a bad nonconference schedule. And by bad, I mean much better than that of NC State.
https://www.cbssports.com/college-basketball/news/bracketology-bubble-watch-auburn-syracuse-safely-in-as-st-marys-plays-its-way-out-of-field/


ESPN's Take- Work to do
Bubble Watch wonders whether NC State's position might be a little less solid than it appears. Granted, Selection Sunday's almost here and the Wolfpack are appearing in mock brackets as a No. 10 seed, eight or even 10 teams away from true peril at the cut line. Plus, Kevin Keatts' team is 20-9 overall and 8-8 in the ACC. That all looks and sounds like a tournament team, and a 2-0 finish at home against Georgia Tech and on the road at Boston College will, one presumes, finish the job. That said, NC State's just 2-8 in Quad 1 games, with the wins coming at home against Auburn and on a neutral floor against Penn State. What if a team with that profile loses at BC, and bows out early in the ACC tournament? Keep winning, Wolfpack.