The NET updates don't seem to get posted on Sunday, so I'm doing good to get anything up before the Monday night game. Oh well, at least I got something up this week.

NET TREND GRAPHS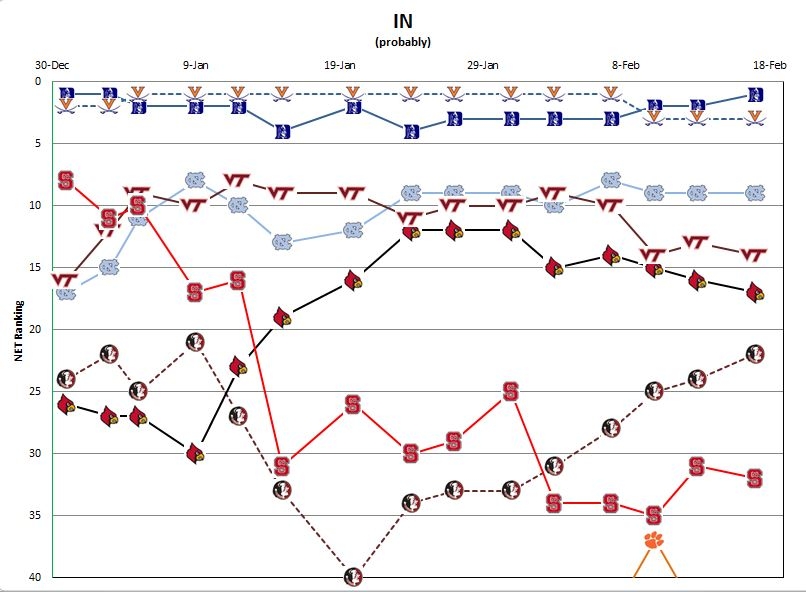 Duke looks to be the team to beat so far winning 10 in a row since losing to SYR at home. They still have two games against UNC along with VT on the road. With the tie-breaker over UVa, it looks like they have one mulligan to give and still keep the #1 seed in the ACCT.
UVa has beaten everyone except Duke and is left pulling for someone to do what they couldn't. They still have VT on the road, L'ville twice, and SYR on the road. They have the tie-breaker over UNC.
Surprisingly, UNC's two losses were at home (L'ville and UVa). They have two games left against Duke and then nothing else worth a lot of discussion.
VT and Buzz are having another good year even though they lost back-to-back games against Clemson and L'ville two weeks ago. They have three tough games remaining...home against UVa and Duke along with a road trip to FSU.
L'ville is having a really good year over all but has hit a rough stretch losing three out of the last five...including the major choke against Duke and trying to give the game to Clemson on Sat. They have two games left against UVa and then on the road at SYR.
FSU has won seven in a row after a really rough start to conference play. However, the winning streak came against a mostly easy stretch with a good win over L'ville and decent wins against Clemson and SYR. They have UNC and Clemson on the road and VT and NCSU at home.
State bounced back a little after losing three straight (and five of seven) to get two Q2 wins and then lost in Durham. State has one Q1 game left at FSU.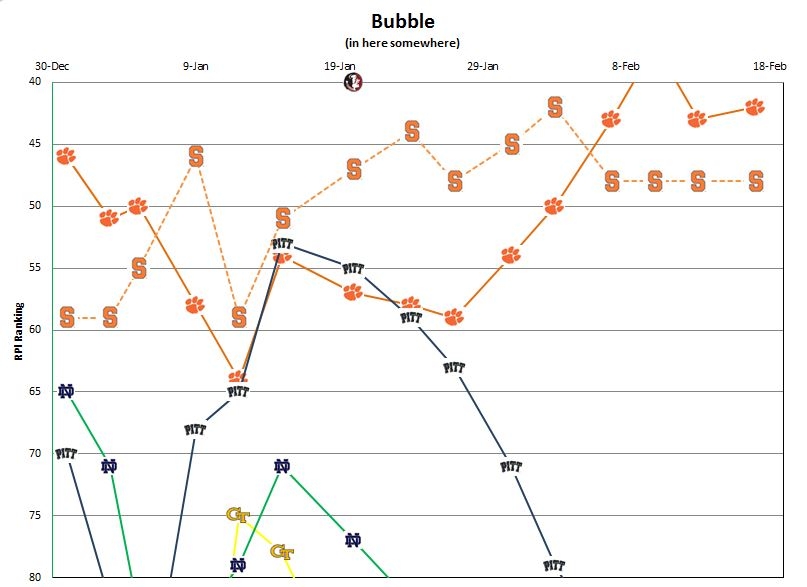 Clemson may end up with a "what might have been" year. After giving away the game in Raleigh, they won four straight, including a win against VT. Then last week they lost another game at the buzzer to Miami and couldn't take the gift that L'ville presented...that's three losses by a total of four points. They have UNC, FSU, and SYR at home and not much else.
SYR has lost two out of their last three (NCSU and FSU) with probably more losses than wins on the way. They play UNC and Clemson on the road and Duke, UVa, and L'ville at home. Overall SYR has a fairly easy conference schedule, but it was definitely back loaded.
NET SUMMARY TABLE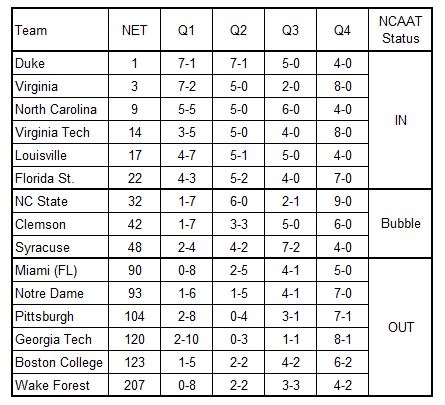 Clemson has a win over Lipscomb (from Atlantic Sun) who currently ranks 37th. Unfortunately for the Tiggers, this win dropped to Q2 about two weeks ago. As pointed out above, they have a number of Q1 games left to play.

For State to get another Q1 win from the games already played, they need Clemson or SYR to climb above #30 (not flipping likely) or they need ND and/or Miami to climb >#75. This will likely be the first time that I have ever pulled for ND unless they were playing one of the Blues (UNC, Duke,.....and UCLA).
My pessismism about State is wrapped around a few things:
- Their miserable OOC schedule
- The past tendencies of the Selection Committee to punish weak OOC schedules
- The paucity of Q1 wins.
It's not that I think that State's Q2 wins are meaningless. The problem is that I just don't know how much they are going to be valued on Selection Sunday. But if they are meaningful to the Selection Committee, State may have one more Q2 game on the schedule. The last game of the year at BC is a Q-2 game as long as they stay >#136.
SYR still has a chance to make the NCAAT, but it's not going to be an easy road from here to Selection Sunday. Here's how teamrankings.com rates their remaining regular season schedule. (I'm a little surprised that they are a slight favorite at home against L'ville)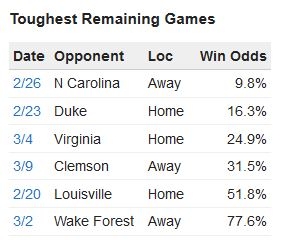 ACC STANDINGS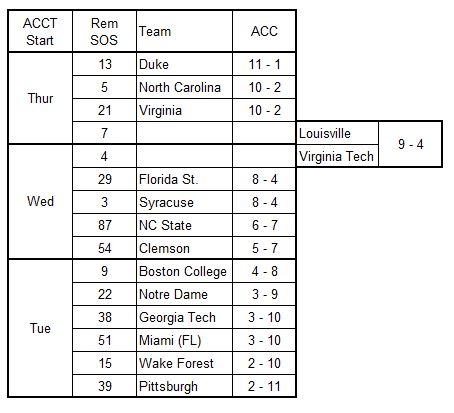 I added a column for remaining SOS from ESPN calcs for use in analyzing the conference standings. In one of the games over the weekend, one of the announcers picked FSU for the fourth seed. With the SOS info included, that doesn't look like a bad projection.
There are a lot of possibilities left, but State doesn't want to be in the 8-9 match-up in the ACCT. A win over most likely SYR wouldn't impress anyone and the odds of beating Duke are exceedingly small. But then again, none of the likely Thursday games for State look very good. I say all of that just to highlight the importance of the game in Tallahassee.
UPCOMING ACC SCHEDULE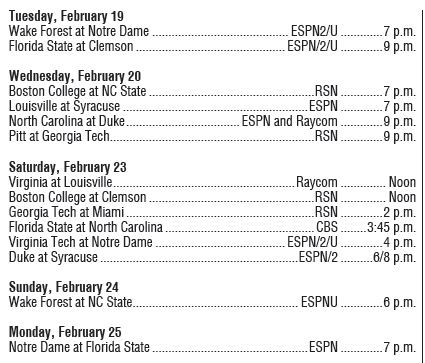 Beyond State's two games, there are a number of games of at least passing interest:
- Tonight's battle of the Commonwealth
- Wed night of the Blues
- FSU at Clemson and UNC
- L'ville and Duke at SYR
- UVa at L'ville