Timely ACC updates are nearly impossible given that:
- ACC games are played on every day of the week except Friday,
- NET rankings are being posted around lunchtime
- I still have a real job.
So for this week, I'm using the NET rankings through Sunday's games. Which means the data below will be out of date as soon as the Duke/ND game wraps up tonight. As usual, it is what it is.
TREND GRAPHS OF NET RANKINGS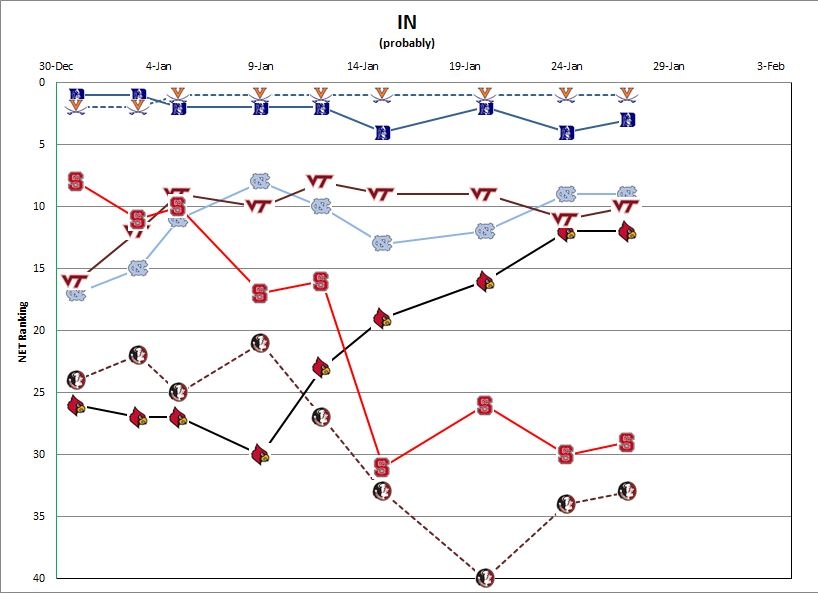 Since the last second win over Clemson didn't give State much of a boost, I'm glad we didn't have to see how far a loss would have dropped State.
Not a lot of exciting stuff here. FSU started the season 1-4 and it shows up pretty clearly. Their two game winning streak since then (Clemson, Miami) isn't overly impressive, but it beats the alternative.
State's huge drop after the loss in WS and L'ville's slow,steady rise are about the only other things that stand out to me.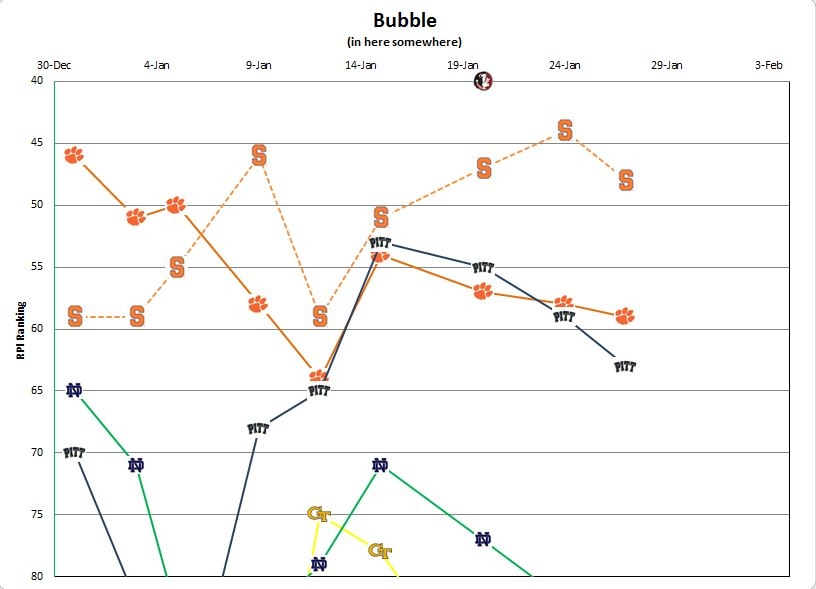 Not a lot of interesting stuff to discuss with the trends in the Bubble Watch either. But if you compare 'Cuse's NET ranking with their conference record (5-2), there looks to be a disconnect somewhere (unless you're following them a lot closer than I am). So let's see what we see in the overall NET table.
NET RANKINGS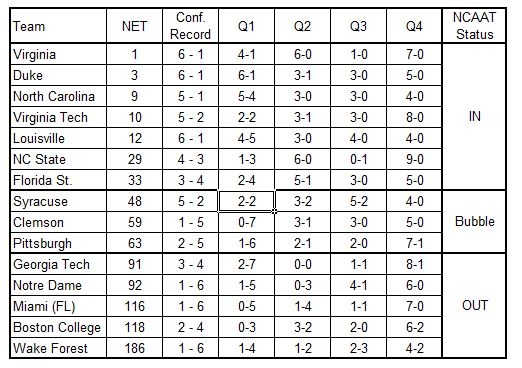 For SYR, the two Q-2 losses and even worse, the two Q-3 losses likely explains why their NET ranking isn't any higher. The high point of their resume has to be the two Q-1 wins on the road against Duke and Ohio State. So while they're listed on the bubble, Boeheim and company are sitting pretty good to this point.
FSU's conference record doesn't seem to match their NET ranking, especially considering they've lost to BC and Pitt on the road. But those losses don't turn out to be as terrible as they sound, with the Pitt loss currently in Q1 and the BC loss in Q2. (After all, it's not like they lost to WF.) Their two Q1 wins are over Purdue (#11) at home and LSU (#15) at a neutral location, so a few stumbles along the way shouldn't hurt too bad.
VT has one really good Q1 win (#11 Purdue) and one so-so win against #32 Washington (both at neutral locations). The OOC SOS is still pretty bad, but it could be worse.....
State's OOC SOS ranks #352 out of 353 teams in Div 1. Anyone that isn't concerned about how the Selection Committee will view that dirty, little secret hasn't listened to me drone on about OOC scheduling for well over a decade. State's best win (#26 Auburn) along with something like a 10-8 conference record is probably not going to be enough for good news on Selection Sunday.
CONFERENCE RANKINGS
https://extra.ncaa.org/solutions/rpi/Stats%20Library/Conference%20Rankings%20-%20Jan.%2027.pdf
I don't know how important these rankings are, but the NCAA has published a couple so far this year. This one has B-12 #1, B-10 #2, SEC #3, and ACC #4. I may look into these a little more this week, but life has to get off of me first.
ACC STANDINGS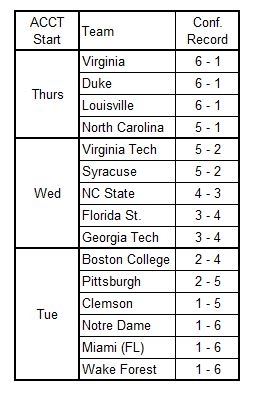 To this point, I would pick L'ville as my pleasant surprise thus far. The loss to Pitt was more than made up by the huge win in Chapel Hill.
The unpleasant surprise has to be a tie between Clemson, ND, and Miami; all with only one ACC win thus far.
UPCOMING ACC SCHEDULE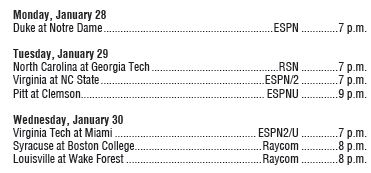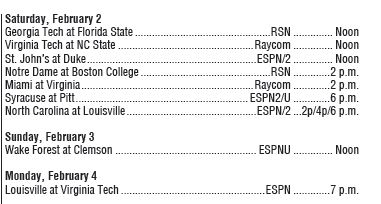 This week is the start of a key, three-game stretch for State. Cavs and Hokies in Raleigh this week and a bus ride to Chapel Hill on Tuesday, 2/5. 0-3 would not be good.
While I'll probably at least check on a few other games, the UNC/L'ville game on Sat and the L'ville/VT game on Monday, 2/4 are two that I'll make an effort to catch.
Here's hoping for good news by this time next week.